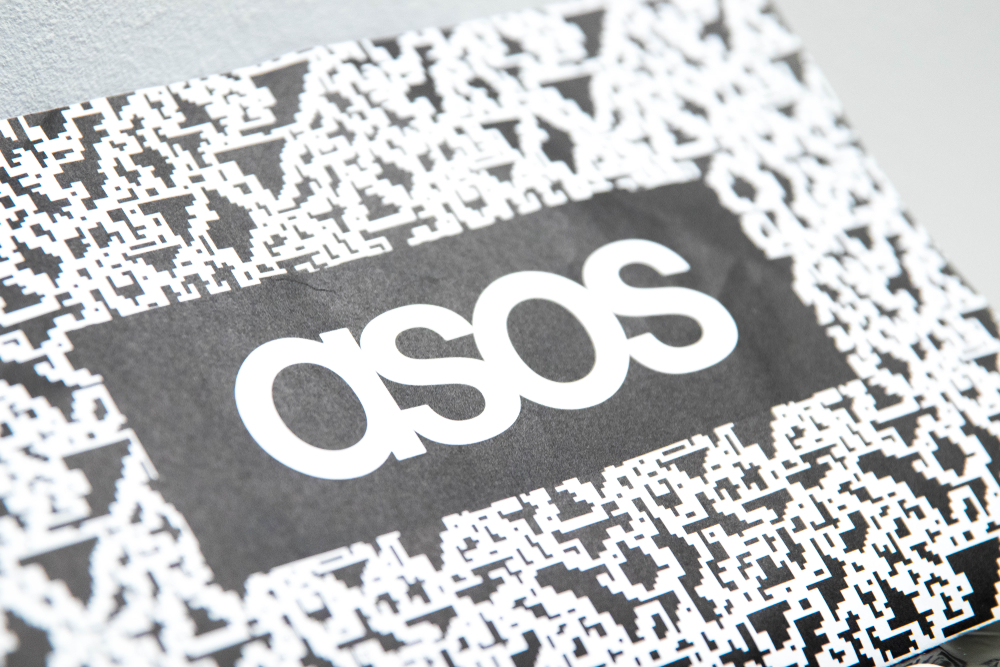 I first heard of Asos three years ago from a college friend, but it didn't catch my eye back then. I didn't know exactly how the order was supposed to arrive, and, at that time, the products came through Romanian Post Office. My experience with Asos has started when my friend bought a pair of white sport shoes, with a chunky platform like the Buffalo ones, from a unknown website, but when I wanted to get myself a pair – surprise! – they weren't in stock anymore. I was so desperate to find something that looked alike that I've started to search everywhere. The only shop that was selling what I wanted was Asos – an international online retailer.
A short description – Asos is a British online fashion and cosmetic retailer that sells over 800 brands, which include their own creations (Asos Design, Collusion Unisex, Asos Luxe, Asos Edition etc.). The website has a policy based on social inclusion and sells under its own brand products for all body types (Asos Petite, Asos Maternity, Asos Curve, Asos Tall).
I didn't know how they ship their products to Romania and the articles I've found online were too old to be relevant. Returning to my college friend who told me about Asos, I messaged her and asked about the shipping options. She didn't gave me too many details, only that Asos has started to deliver through a courier company. I decided that it's the perfect moment to place my first order. This had happened back in November 2019, and from that point on, I made some orders and returns. I even recommended it to my friends and I got only positive feedback.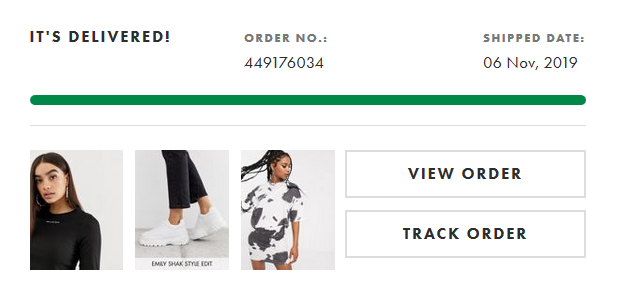 I opened the AppStore and installed the Asos app. At first, I was overwhelmed. There were so many options I could've chosen from, so many special products I couldn't find in stores. One of the reasons I appreciate Asos is that it rarely happens to be in the same room with a person that wears the same item as you, whether they have an idea about the store or not, because it offers several options for any kind of taste. I started adding products on my wishlist. Compared to other brands, an advantage of shopping on Asos is that you can receive an instant notification when a product comes back into stock in your selected size. Asos has regular sales or promotional codes, and when we talk about tips&tricks I advise selecting prices to be shown in pounds, because, most of the times, they are lower this way.
After I've chosen the products I wanted to buy, it was necessary to create an account. I didn't want to fail, so I checked the sizing chart and the model's measurements, because they're different depending on the brand. Also, some items have presentation videos, which considerably simplify the process.
Payment methods
The payment method is exclusively via credit card or PayPal, and the conversion from lei is done automatically, without being necessary to have a currency account.
Delivery
After you place the order, you have to choose the shipping method. There are three options available: Standard Delivery, Next Day Delivery (14,47£) and Nominated Day Delivery (14,47£). The standard shipping is 3,62£, and in case your order is over 30£, it's free. The package arrives approximately in one week, but sometimes it's delayed for a few days. After the order was placed, I received a confirmation e-mail and, after two days, I was announced that the package has left the warehouse. A link through which you can verify the status of your package on DHL's website is attached in the e-mail. However, sometimes it doesn't update in real time. Asos collaborates with a courier company from Romania, and the delivery man will contact you before delivering your order.
Additional information
If I needed more information, I used the LiveChat (sometimes is unavailabe), Facebook (www.messenger.com/t/ASOS) or I've sent them an e-mail (www.asos.com/customer-care). On the last two options I received an answer within two days, probably due to the large number of requests.
Return Policy
Until now I returned two products and the whole process was easier than I first thought. If you return the item within 28 days from the moment you received the order, they will return the whole amount, but if you decide too late (29-45 days) Asos will give you a voucher equivalent with the amount spent.
The return is free and it's made through Romanian Post Office. You just need to select which products you want to give back and then create a return paper from your Asos account (www.asos.com/returns/). This contains all the data necessary for sending the products back, including a receipt which proves you've sent the package back in case the parcel is lost. After printing the return paper, you have to drop off the package at the nearest postal office. It takes up to 14 days for it to arrive at their warehouse and in maximum 10 days you'll get your money back in your bank account. The return is trackable even on the Romanian Post's website.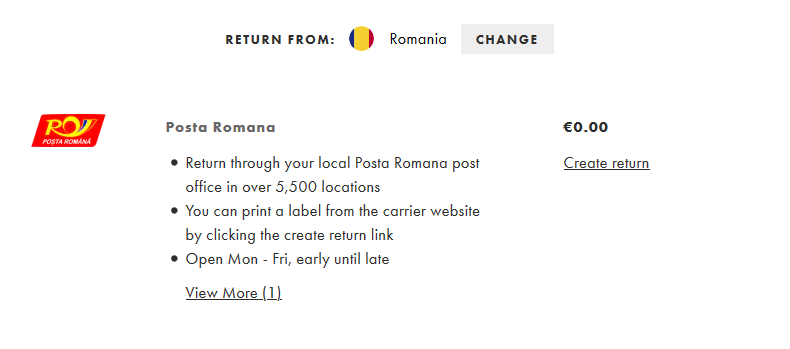 Last time, I returned a pair of sandals and I had to discuss a few times with Asos Customer Care by e-mail and on their Facebook, because I haven't received any information about the package after it left the country. The order has been placed in lockdown and it was specified on their website that the arrival can take more than usually.
I prefer online shopping, because it involves less time, you can see all the products available, you can think how you can mix them with items from your wardrobe and the sales are solid. Overall, I had a positive experience with Asos, a lot of people asked me from where I ordered some of my items. I bought a lot of items on sale, I even got a dress on sale from 30 to 7£. The platform offers a large variety for all tastes and incomes, so it's impossible not to find something that suits your personal style.
If you need more inspo, look at the items I ordered:
ASOS DESIGN 90s shoulder bag in leopard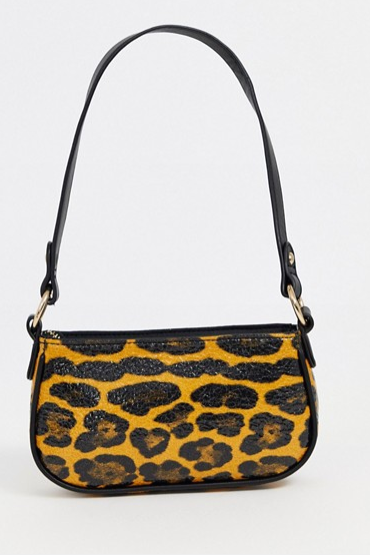 COLLUSION Unisex oversized brushed cardigan in green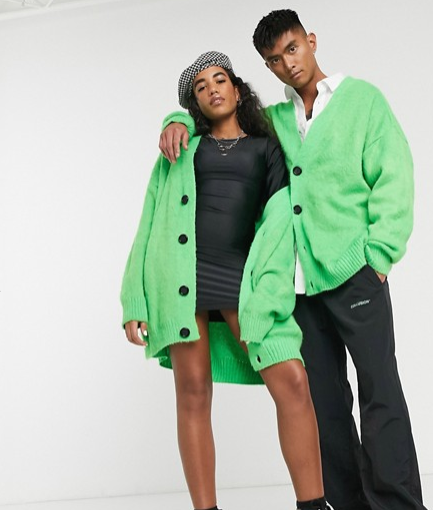 COLLUSION mini cami dress in photographic print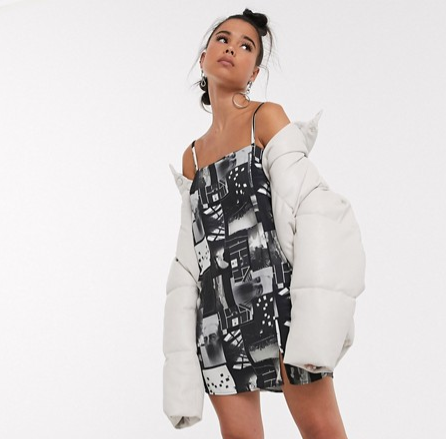 ASOS DESIGN long sleeve plunge velvet mini dress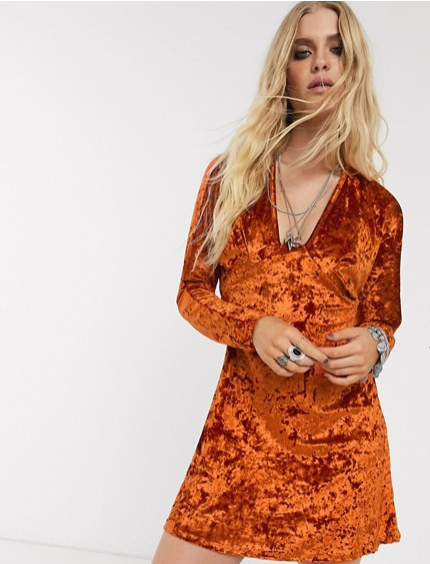 Have you ever ordered from Asos? How was the whole process?