The new model of laptop with two screens, ASUS ZenBook Duo 14 UX 482, was recently launched in Romania, and it's available in multiple configurations. Inside, we will find an 11th generation Intel Core i7 processor with frequencies up to 4.7 GHz and Intel Iris Xe graphics.
ASUS ZenBook Duo 14 UX 482 has up to 32 GB of RAM, which is extremely efficient for using both the functions of the main screen and those of the secondary screen of 12.6 inches. It can also be used for video and photo editing thanks to the NVIDIA GeForce MX450 dedicated graphics or the integrated Intel Iris Xe graphics. Thus, the ScreenPad Plus secondary screen is perfect for placing work tools or the chronologic bar. To improve the performance of the new model, ASUS has added the AAS Plus thermal system.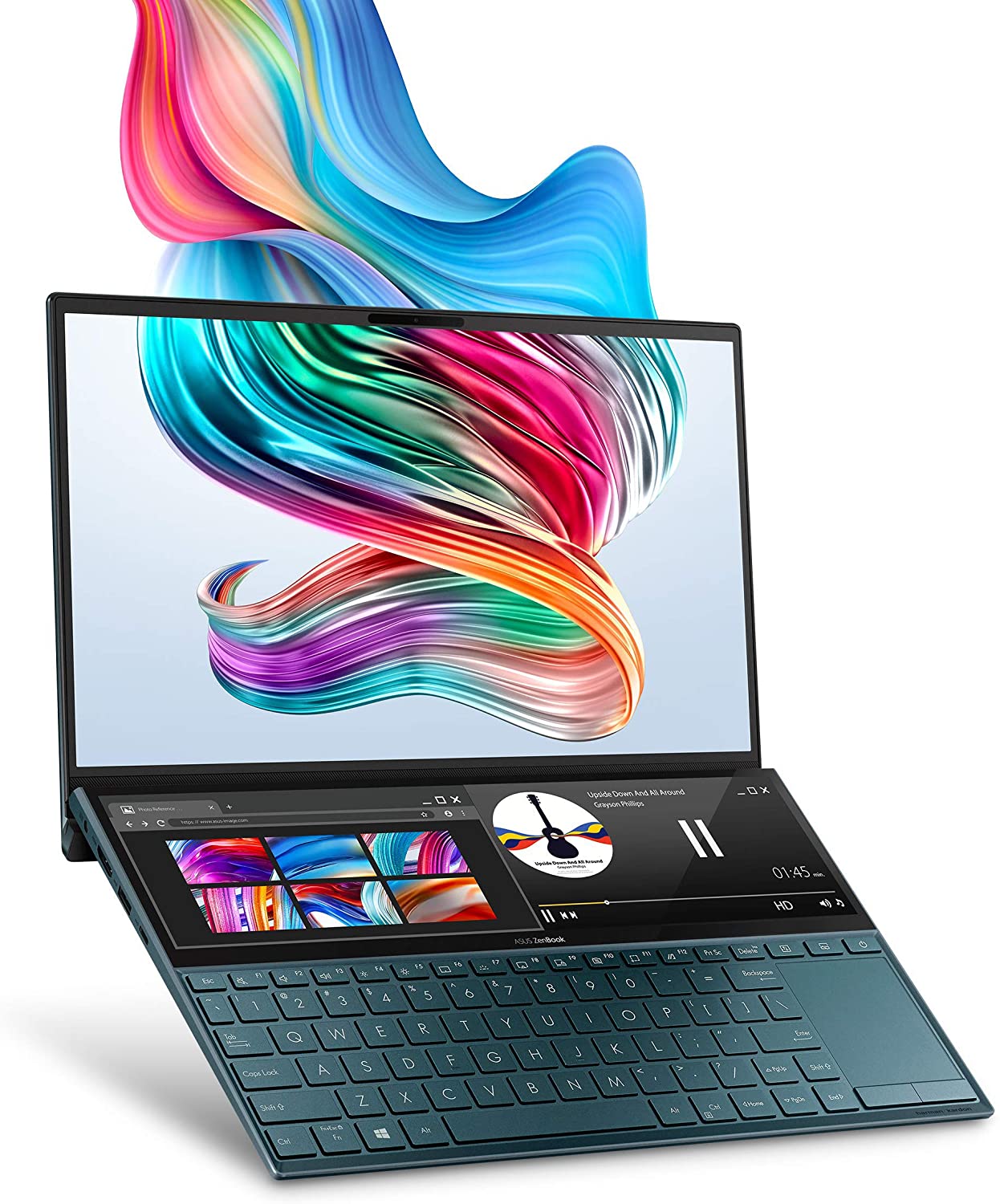 Image source: Amazon.com
So, you can order it with the following configurations from:
1. ASUS ZenBook Duo 14 UX481FL Laptop, Intel® Core™ i7-10510U – emag.ro – 13048.77 lei
2. ASUS ZenBook Duo 14 UX482EG Laptop, Intel Core (11th Gen) i5-1135G7 – cel.ro – 7199 lei
3. ASUS ZenBook Duo UX481FA-HJ048R Laptop, Intel Core i5-10210U – altex.ro – 5899.90 lei
4. ASUS 14'' ZenBook Duo 14 UX482EA Laptop, FHD, Intel® Core™ i7-1165G7 – pcgarage.ro – 7998.99 lei
5.Asus ZenBook 14 UX482EA-HY026R Laptop, Intel® Core™ i5-1035G7 – flanco.ro – 7300.90 lei
What configuration will you choose for your new ASUS ZenBook Duo 14 laptop?
---
Featuring and listing images source: www.notebookcheck.net
Article images sources: the websites where the above-mentioned products are available