Between 10th and 12th of May, the fifth edition of BurgerFest promises to delight your taste buds with the best burgers in the country, so you should not miss this event that will take place, as usual, at Verde Stop Arena, on 162-164 Barbu Văcărescu.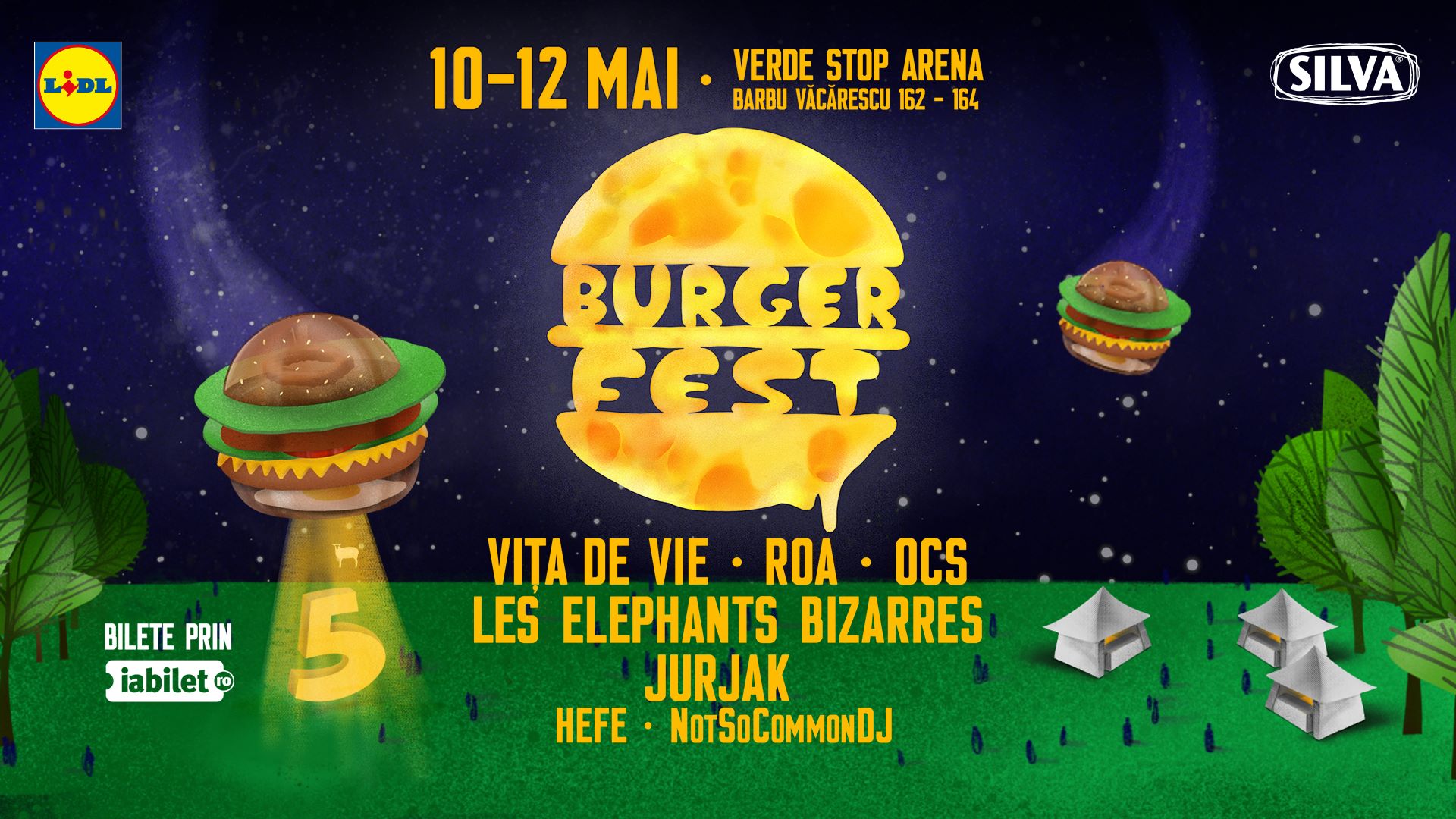 Image source: www.zilesinopti.ro
If you are a #burgerlover, you must know that at this edition there will be more than 60 burgers assortments available, which are prepared by restaurants in Bucharest and other cities, such as Brașov, Cluj-Napoca, Sibiu or Timișoara. Even though we know that you will check all the foodtrucks that are present at the festival, we have thought to mention at least a few restaurants that have intensely prepared for this event: Baz Bistro – Burgers & Pizza, Burger House, Emte, Food Stuff, Gastro Street Food & More, Hard Rock Cafe, Smokin' Pig, Uncle John and many more.
But that's not all! We all can agree that after a succulent burger (or more) there is still room for a coffee or a dessert, so the organizers will also bring 5 to go, Atelierul de tarte, Butoiul cu înghețată, Zobuian and I, Bubble Waffle.
And now that we have finished talking about food, let's reveal who will entertain the public during the three days of the festival. On Friday, the 10th of May, OCS will be on the BurgerFest scene, on Saturday, the 11th of May, Jurjak and Vița de Vie will sing for us and in the last day of the festival, on Sunday, the 12th of May, Les Elephants Bizzares and ROA will be in charge with the entertainment! And before the concerts, two of the best DJs in Bucharest, HEFE and NotSoCommonDJ, will make sure that the music and fun are up to scratch.
Moreover, at the festival, we will find out which is the best burger in the country, prepared by both restaurants that have lots of experience in this field and amateurs who trust their recipes and their culinary skills.
The access to BurgerFest2019 can be made with a ticket or a pass, which can be purchased online from www.iabilet.ro, from Flanco, Diverta, Cărturești, Metrou Unirii 1, Muzica, IQ BOX, Uman, Libmag, Casa de Balet and from the Selfpay terminals. The price for a one-day ticket is 20 lei and 45 lei for the entire festival.
If you want to spend a weekend in open air, where you can delight yourself with a delicious burger and have fun with your friends on the rhythms of some well-known and appreciated bands and DJs, we are waiting for you at BurgerFest 2019, at Verde Stop Arena, between 10th and 12th of May!
---
Featured image source: burgerfest.ro
Listing image source: www.expatica.com