We all think about what the ideal gift for our loved ones for Easter would be and, most of the time, we have no idea. No matter if we want to offer something special to our work colleagues, parents, grandparents or godparents, you should know that you will never fail with a basket of goodies.
Whether you choose some of the French, Italian or traditional delicacies or you opt for the traditional ones, the baskets we propose to you will be received with much pleasure and will be enjoyed in a short period of time, because they are absolutely delicious. Here are some of our suggestions:
1. Mozaic gift basket – lemanoir.ro – 475 lei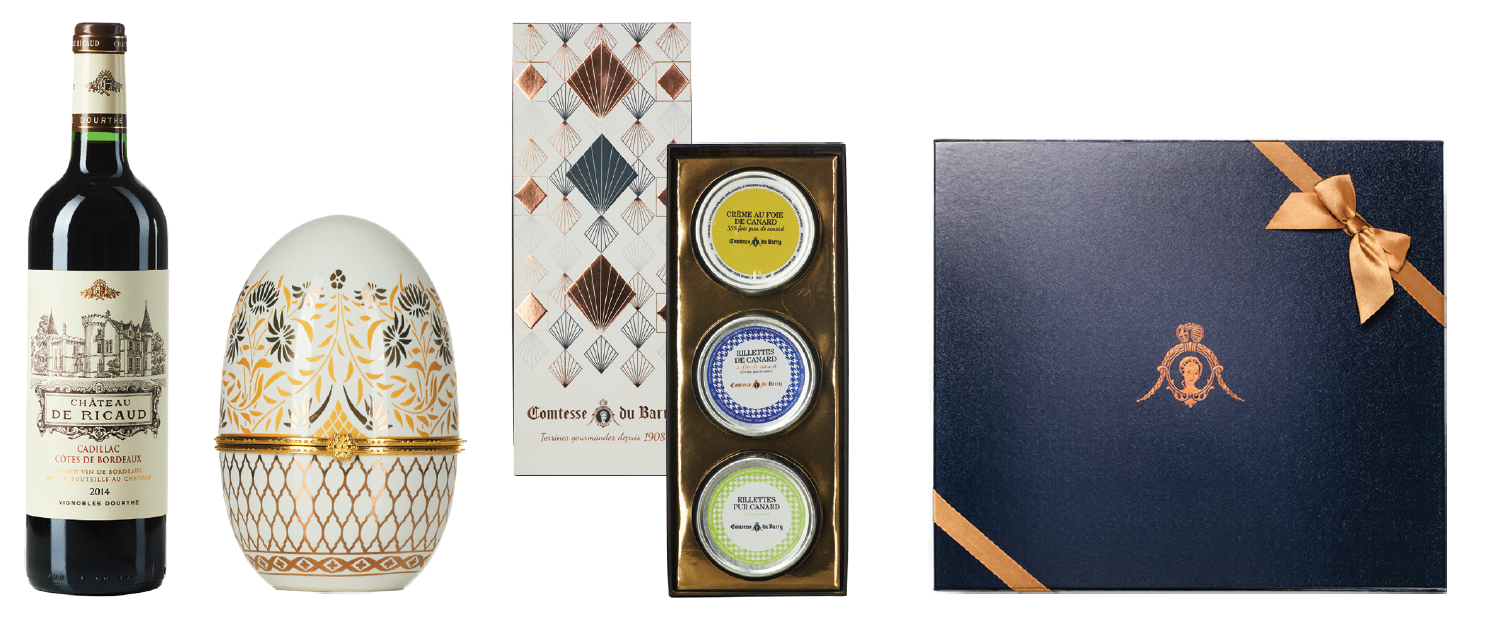 Comtesse du Barry proposes you a gift basket which contains: a special coffret with three assorted terrine (35% foie gras cream, duck rillette, 20% foie gras duck rillette), Fabergé style porcelain egg filled with black chocolate and milk chocolate candies and red dry wine Château de Ricaud AOC Bordeaux from France.
2. Un Dolce Pasqale gift basket – www.degusteriafrancesca.ro – 249 lei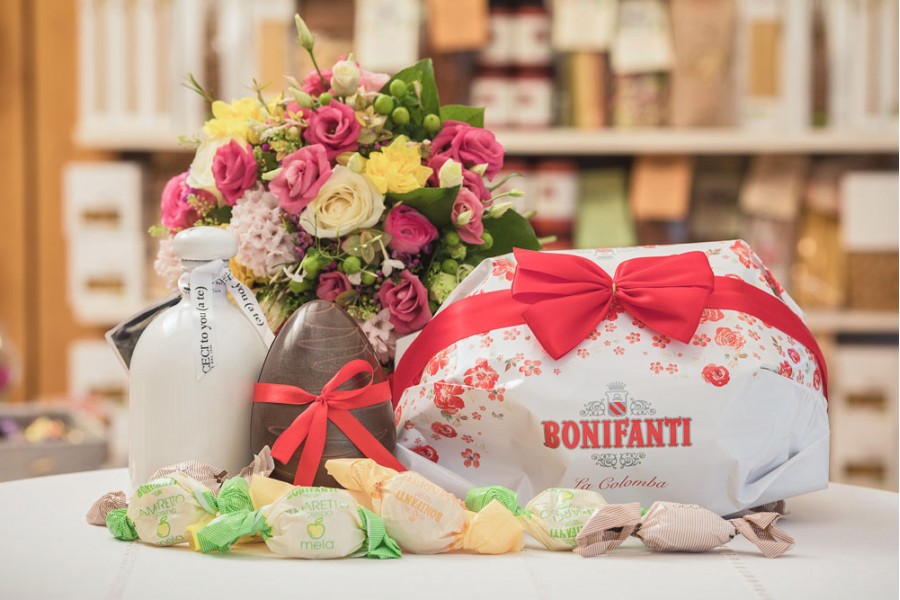 Full of special flavors, Un Dolce Pasquale is a special gift for any family member or friend. It contains: Amaretti Misti with fruits, Lambrusco A TE Bianco, Emilia IGP, Cantine Ceci, a large chocolate egg and a classic Colomba.
3. Easter gift basket – www.cadoulspecial.ro – 349.99 lei + VAT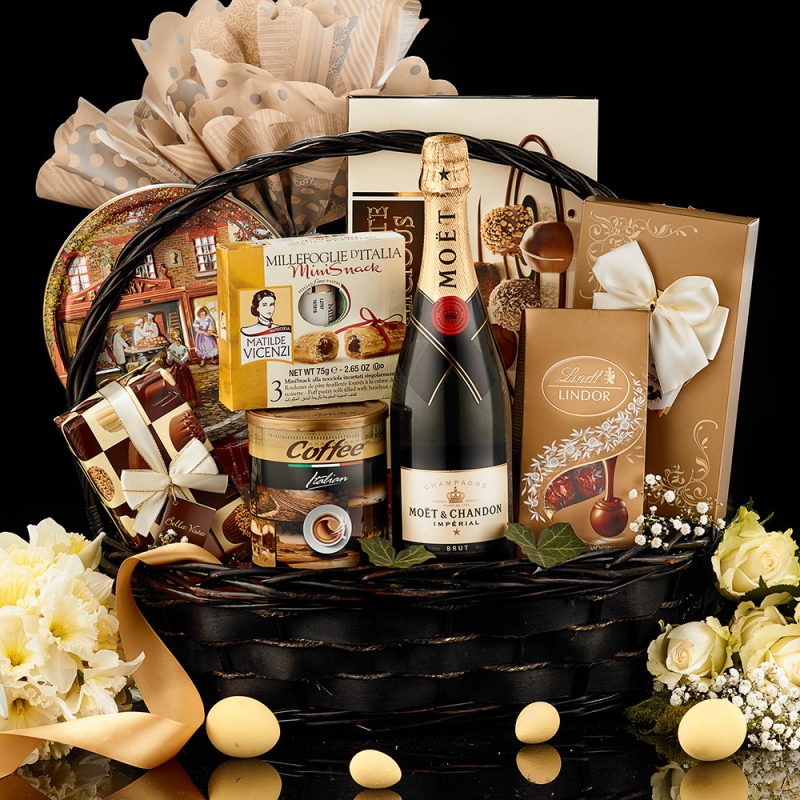 If you want to impress your friends or colleagues on Easter, opt for the special gift basket which contains: Moet & Chandon Imperial Champagne, Panettone with raisins and orange peel, Italian Coffee, Danish butter cookies, Lindt pralines, Chocolate Delicious Selection of candies, Millefoilie D'Italia Vicenza fancy cakes, Crunchy Frutti Fresh pralines, Bella Vista Flavor Chocolate.
4. Momente și Tradiții gift basket – cosuri.gourmetgift.ro – 333.32 lei + VAT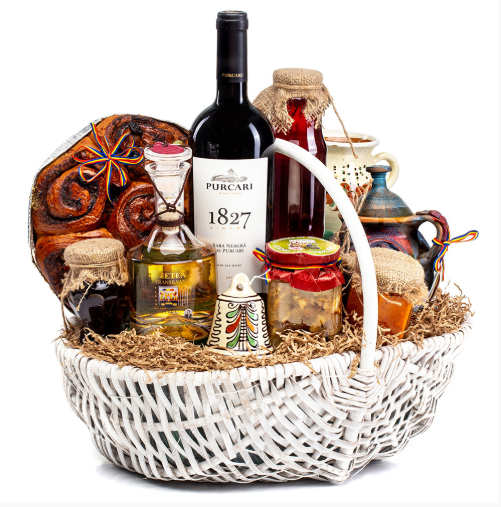 The gift basket you can order from Gourmet Gift contains: Purcari Rare Black wine, Zetea țuică, traditional Romanian cake with cocoa and walnut filling, Stupina Onea honey, fir syrup, Vrâncioaia stew and different varieties of jam, Stupina Onea honey with walnut, ceramic bell, ceramic cup and bamboo oval basket.
Regardless of the gift you choose for your loved ones, we are sure that they will appreciate it and will enjoy it with pleasure!
---
Featured image source: deansfarmmarket.com
Listing image source: www.lakechamplainchocolates.com
Article images sources: the websites where the above-mentioned products are available