Oana Titică, owner of Chicineta
 
1. What are your favorite places to go when you feel the need to renew your wardrobe?
Online on roserry.ro and in stores at Guess, Nissa, Levi's and Ecco.
2. Everyone has some favorite beauty products. If you were to make a top of them, how would this list look like?
Body cream Neutrogena blue. It's the most moisturizing body cream I've ever found in my life;

Kerastase Therapiste Resistence shampoo and mask (the blue ones). I'm bleached blonde and without these products I have no chance :));

Dior Hydralife face cream – it's super cool and perfect for summer;

Mac Extended Play Lash Mascara – very discreet and does not make the lashes heavy;

Cream with SPF – Anthelios XL from La Roche Posay.
3. The house should not be left behind. Where do you get the most interesting accessories for your home?
Chicineta, of course :)). And Design & After, Zara Home and H&M Home.
4. Is free time for relaxation or fun? What activities do you choose?
I dance. I`ve started the Latino dance classes (salsa and bachata) for a year already and if I could only dance in my free time, I would be the happiest. Otherwise, I watch TV series and I read a lot. Also, I go out a lot in the park with my dog.
5. Regarding sports and healthy diet, what rituals do you have and what are your suggestions for us?
I think the coolest thing is to find something that you like or you'll be torturing yourself with every day at the gym and you will end abandoning anything after a month. This is what salsa and yoga mean to me, but until I found them, I went through many years of trying dozens of forms of fitness that bored me. The easiest thing to do is to test options until you find out what suits you.
And regarding healthy eating, the simplest way is to use our common sense and our own discernment, not to go into extremes and eat a little bit of everything.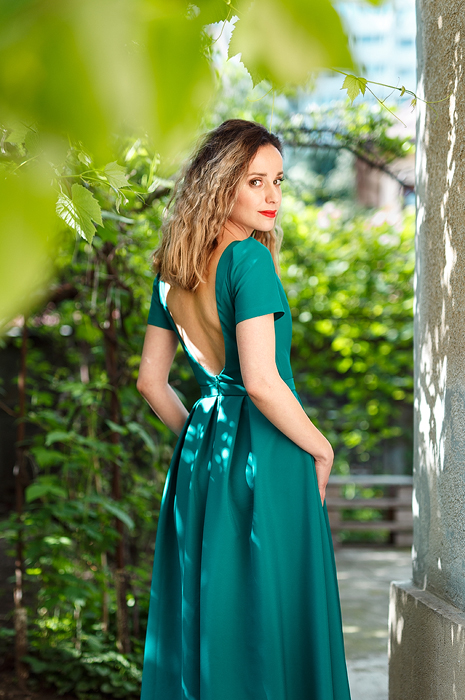 6. When time does not allow you to prepare all the goodies, what are your favorite restaurants to go at?
It's hard, because there are a lot :)). Kanpai for sushi, Simbio for weekends, Osteria Zucca and Gallo Nero for Italian, El Bacha for Lebanese, Zexe and Vatra Neamului for Romanian, Agra Palace for Indian and Din Fu for Chinese.
7. Gifts always create unforgettable moments. What are the criteria you choose the right gift for putting a smile on your loved one`s face? What was the last gift you made?
The last gift was a holiday, where I went with the gift owner, because I thought I could to take advantage of the situation :)). But I usually choose a gift thinking about what that person likes.
8. Travel is certainly on everyone's preferences list. What are your favorite holiday destinations?
All of them :)). This summer I really want to take a long vacation in Provence and drive around all of The South of France.
9. In Romania, we have so many breathtaking places. Where do you choose to go when you want to break your daily routine?
To the sea, always, in every season, especially since in recent years there are many open fisheries all year long. And in summer, I go through villages from Transylvania.
10. What is the last wow gadget that left you a pleasant impression?
I'm totally outdated with technology, so everything impresses me. I'm so far behind that the last thing that impressed me was the vacuum cleaners that move alone through the house. That was about two years ago. :)) Since then, I do not know anything from the gadgets world.
---
Article images source: Oana Titică's personal archive