Handmade jewelry is always to everyone's liking, but we do not realize how complicated the process by which they are created is. Thus, to find out more about it, but also about the handmade world, today we will talk to Gabriela Munteanu, the designer behind the Biella Biju jewelry.
1. How did you discover your passion for handmade accessories?
I simply saw a lot of beautiful models of either earrings, bracelets or necklaces, which I could not find on the market, in our country, and I wanted them. In addition, since I was a child, I've liked making earrings, bracelets, necklaces and keychains, using my grandfather's tools, and I decided to try to do everything I want in terms of jewelry and accessories.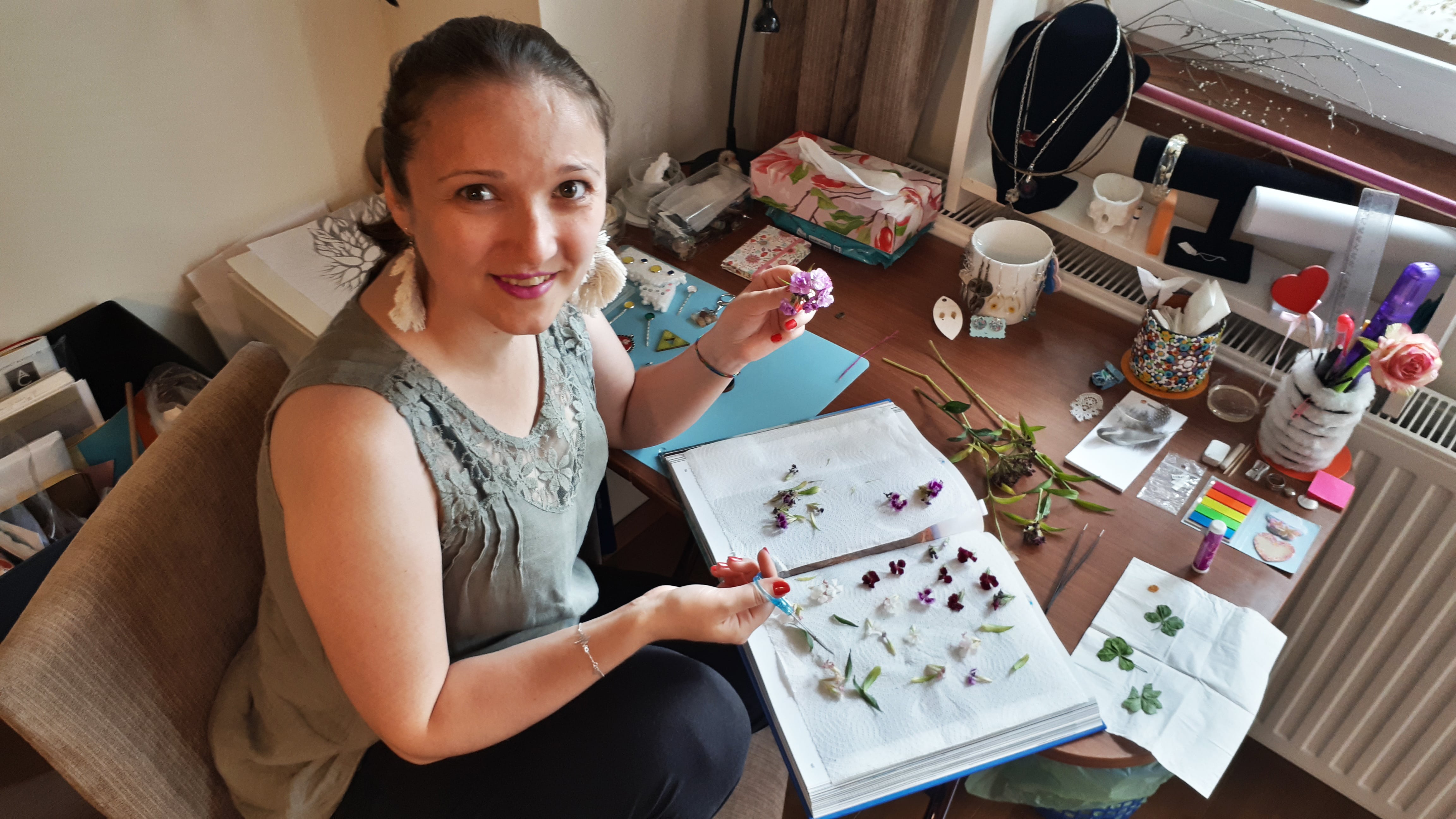 2. How was Biella Biju born?
Well, the actual birth took place in December 2018, after my fiancé took an emotion management course. After the course, he urged me to do what I had wanted for a long time, to buy raw materials to make my much-desired earrings. That's when "GM Crafts & Handmade" was born. Slowly, I started to invest more and to like it even more, receiving appreciations from friends and relatives. After doing the same course, I felt my creativity flourish and I gained more confidence that what I do is good and beautiful, that my creations are also beautiful and really appreciated. At the same time, I got the courage to work with epoxy resin, I discovered what can be done with it and I fell in love with the whole process of creating resin items. With a little help with the branding, "GM Crafts & Handmade" was reborn as today's "Biella Biju" and continues to flourish.
3. What products do you create for your customers?
We started by creating earrings and necklaces from beads of all kinds and even from recycled materials, non-precious metals (stainless steel, brass, bronze) and later from 925 silver and gold on request. Then I continued with earrings, necklaces, bracelets, rings, keychains, bookmarks, cup holders, small decorative glasses, ashtrays, hairpins and hair clips, all with epoxy resin in which I always insert various elements from nature, such as small flowers, leaves, but also other elements with which I can create beautiful effects or patterns.
The range of products is varied now and will continue to diversify due to my curiosity to try all kinds of epoxy resin techniques.
4. To whom are these products addressed?
I mainly focus on accessories for chic ladies, although I occasionally slip a unisex or men's accessory.
Products such as bookmarks, cup holders or ashtrays are addressed to everyone and I consider them to be special decorations suitable for home and relaxation, so they are to everyone's liking.
At the same time, Biella Biju prices are varied and accessible to all pockets, so anyone can afford one of my creations, of any kind. That was a very important criterion for me. I also went through periods when my income was lower and, nevertheless, I wanted, like any soul, an accessory to brighten my days, and the financial aspect put an obstacle in getting that object that delighted me. Thus, I want my products, my creations to be accessible to everyone and to bring many smiles and many appreciations to those who have them.
5. Given that you have just started on this path, what was the most difficult moment you went through to make Biella Biju accessories?
I've been thinking for a few minutes and I can't remember a difficult time. In fact, now I realize that it was difficult for me in the period before taking the course I was talking about, the one about emotions, a period when I felt that I was not creative, that I wanted to have inspiration, time and freedom to create anytime. At that time, I was working full-time and this did not allow me to create and play with the beads as much as I wanted. After the course, I had a boost of creativity and I started to create different models, a few per week and I still create new models all the time. That was the moment when I realized that I want to invest more time into my passion and, slowly, to turn it into a small business of mine. I switched to a part-time job, which allowed me to participate in both physical and virtual handmade fairs, to invest more time in online advertising, to play more with new materials and models and the difficult period passed, while the orders were gathering. By putting myself and my desires on the first place in my life, I managed to get the perfect solution for myself and my family, to whom I now manage to give all my attention in the rest of my free time.
6. Where do you find your inspiration to create so many products?
Inspiration comes from everywhere. When you are open to new, open to crazy ideas, you find inspiration even in the placement of the tiles on the sidewalk, which really happened to me. It's all about realizing that there's beauty in everything. So, in my walks both among the concrete of the city and through nature, I find elements that inspire me or that I want to immortalize in resin forever. That is why it is important for me to be connected with nature and the environment around me and to be relaxed at the same time in order to let creativity flow.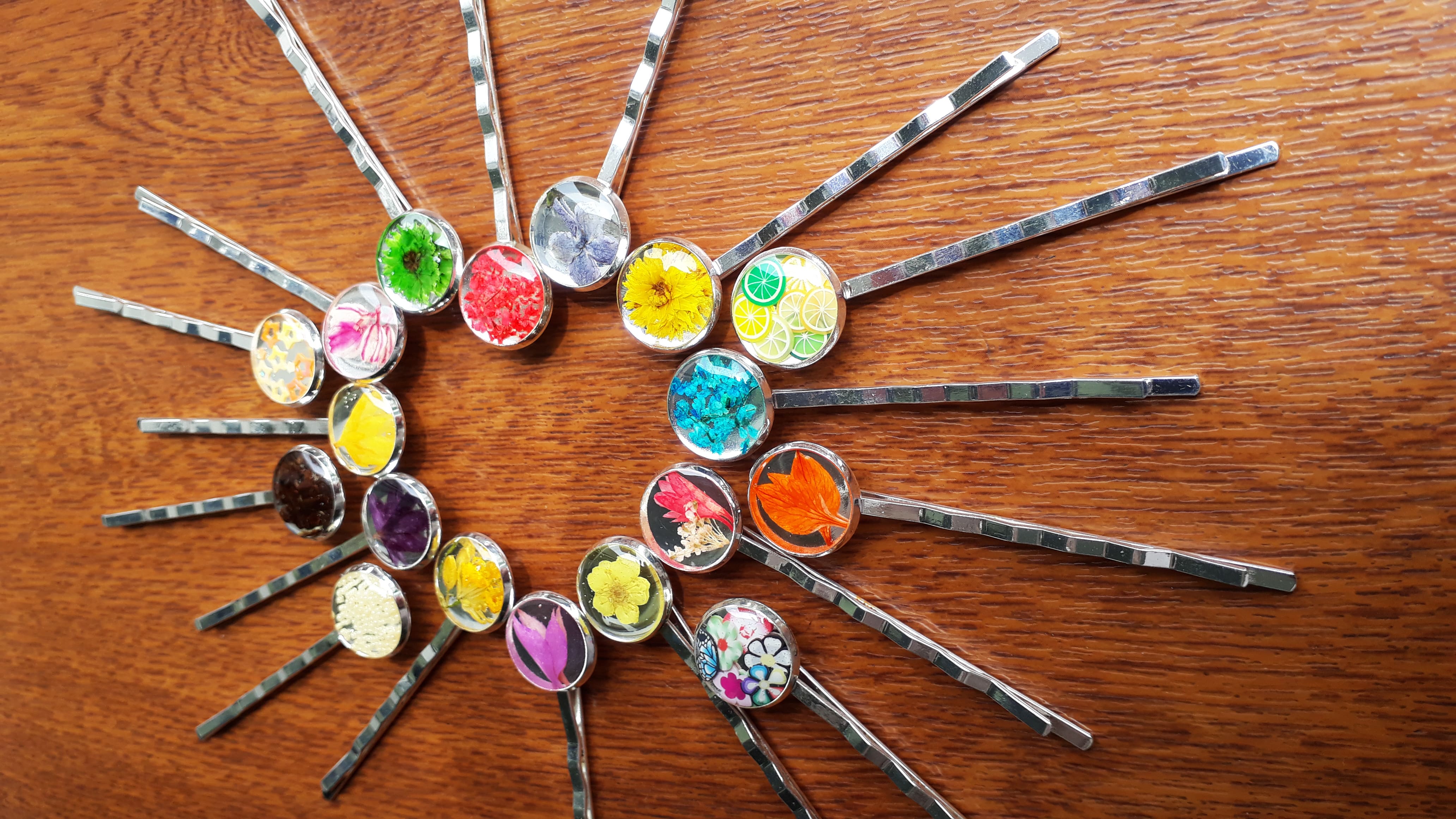 7. Where do you create the Biella Biju products?
I can say that I create them everywhere, because ideas come to me everywhere. When I am surrounded by nature, I collect small flowers, leaves, twigs that I later press and insert in the resin, this being an extremely important step in the creation process. But the actual creation of the items takes place at the office-workshop located in a corner of my living room, a corner that sometimes extends to half or even the entire living room, depending on the amount of orders. This was also the biggest advantage during the isolation at home, because I had everything at hand, unlike other handmade creators who have the workshop away from home.
8. Can you tell us how a day looks like in your workshop?
It depends on the days. There are some in which I deal in particular with the promotion of Biella Biju on social media, there are days in which I deal with product images, from their photography to image processing to apply their logo and highlight the product, there are other days when I only deal with packaging and others when I create.
My favorite days are the ones when I create and pour resin. I wake up early in the morning and thoroughly clean the space. Resin parts can only be created in an enclosed space, where there is no wind, no dust and insects or other disturbing elements, which still needs to be very well ventilated, because when the resin is unprocessed, in liquid state, it involves a certain level of toxicity. I only pour them at home, on the desk (flat surface) and only after I do a thorough cleaning, and until they harden completely, for 48 hours, I keep the temperature stable at a minimum of 23-24 degrees Celsius and I am careful not to I create air flows that could bring a speck of dust or something as small and unwanted into the pieces. After cleaning, I prepare the molds by washing them, wiping them, placing them in a fixed spot on the desk and then I determine which metal bases I will use and I clean them too, piece by piece. After completing this step, I take a moment to breathe and analyze each base to imagine the final product and then I realize what model I want to create. Sometimes I just pour the background in one day, because I know I want that certain base with a black background. Then, it can wait up to several weeks and more pouring sessions until I see it completed in my imagination and I know what to put in it, so to become a piece that will bring me the much desired smile and satisfaction. After I have their images, I prepare the flowers, the petals, the elements that I saw in my mind and only then I equip myself properly for pouring the resin itself. Then, I put on a protective mask, surgical gloves, a certain row of work clothes that are already sprinkled with resin, I prepare the jeweler's scale, the glass and the spatulas, the toothpicks, the tweezers and the pipettes, the special lighters and the napkins, dyes – everything is placed in a certain spot on the desk and everything must be at hand because a counter-clockwise race follows in the first hour and a half, while the resin is still fluid and I can drip it easily. I mix the resin with the hardener for 10-15 minutes, gently, so as not to create small bubbles, and then pour into molds, drip with a spatula and sometimes with a toothpick. Only after finishing all the mixed resin I can breathe deeply again and take the rest of the day off, because I have to come back after about an hour or two to retouch a flower that has moved from its place and to check if other bubbles have appeared in the meantime. So, the casting days are completely reserved for this activity. Sometimes it takes six hours to complete this process, when I am 100% there and no one and nothing exists around me.
9. Were there any items you could not give away? Which are those and what are the reasons?
No. The moment I have a finished product in my hand, I take a moment to imagine that someone will order it and it will go away. Depending on how I feel, I know if it's mine and I keep it to myself. Therefore, it was never difficult for me to part with anything. I started this whole adventure called "Biella Biju", firstly, to create all the beauties I wanted for myself. Of course, I also publish my item, and if someone wants it, I especially create another copy that is as similar as possible. We must be aware that everything that is handmade is unique and special. At the same time, I like to customize them, while having in my mind and my soul the person who wants the respective item. It is a very nice feeling to know that something was created with you in mind, especially for you and with joy. I always create only when I want to do it. If I have a bad day, with low vibration emotions, then on that day I do not create anything. It's all so simple when you do what you want!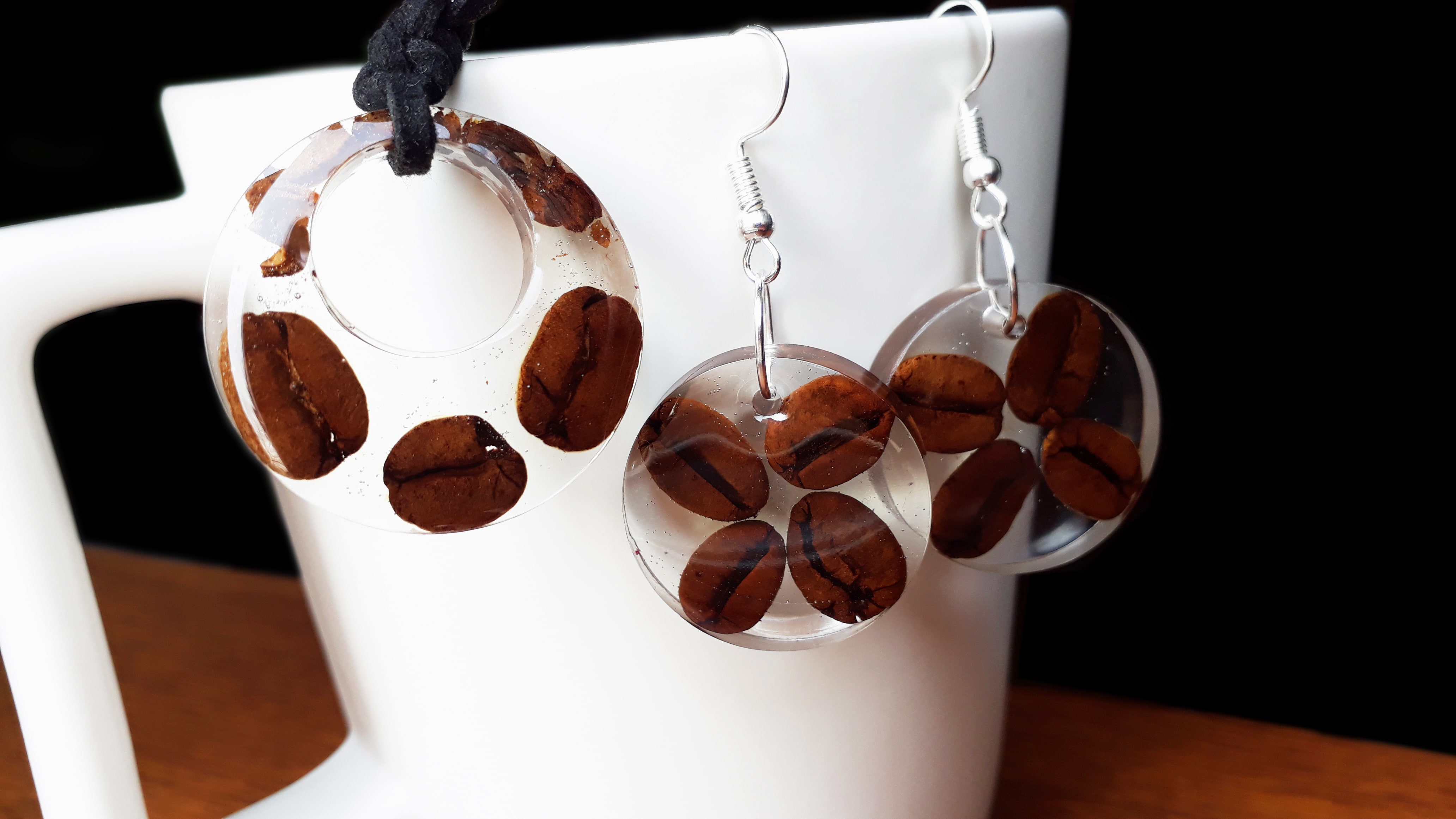 10. Are you following other Romanian handmade producers? Who are those?
Of course! First of all, I follow those who make resin jewelry: FlorAtitud, Felicity Store, FIOR, pebs. It is always a good idea to see what your competitors are doing. Secondly, I like various handmade techniques and decorations from Lyra Dream Catchers, Cufăr cu Emoții, Enya's Workshop, Claudia Aelenei, Mihaela Petrache, UNIC, Gabriel Geller, AndreeaS by Andreea Sandu.
11. How do you see the evolution of the Biella Biju's story in 5 years from now?
First of all, I start with this year, in which I am going to launch my www.biellabiju.ro website, which I am also doing a bit at a time and to rent a bigger apartment, in which an entire room will be dedicated to the Biella Biju workshop. I want to be able to make my brand known, to become a brand in the true sense of the word, to participate in as many handmade fairs as possible, to diversify the range of products to the level of paintings, chairs, resin tables, then to link a collaboration with some friends from the handmade field and to open an exhibition-shop somewhere in the center of Bucharest that would contain all our creations. But I will always take care of my creations alone.
At the same time, I want to collaborate with other manufacturers of handmade products. For example, if someone creates bags, I would want to send them keychains for those bags or if someone makes clothes, I would like to send them resin buttons for shirts, blouses, skirts or pants.
There was a moment when I imagined what it would be like to stop creating jewelry and casting resin and in the next second, I had tears in my eyes. Once I started this journey, my passion and I just go ahead, experimenting with materials and models. And I'm always curious what it will be like and what will come out of my next resin casting.
---
Images source: Biella Biju Archive