When the smell of plants and natural ingredients meets the skill and creativity of a well-known perfumer, a new brand is born – Luviane. This perfume workshop is well-handled by Iulia-Victoria Neagoe, the founder of the brand, alchemist, artist and olfactory designer, who will answer our questions and will surprise us with small curiosities about the world of perfumes in a short interview:
1. How was the Luviane brand born?
In 2013, I decided to turn my passion into a brand. At that time, I had a few finished perfume formulas and a lot of enthusiasm. In addition, I enjoyed the appreciation of acquaintances who already used perfumes created by me. Then, in 2014, Luviane Atelier de Parfumerie became a registered trademark and at a slow pace what was just a hobby became one of the most important projects in my life.
2. How did you discover this passion?
I would say quite natural, because from an early age I was lucky enough to enter the world of plants, to understand them, to know them and, especially, to enjoy their smell. In my family, recipe recipes for various herbal remedies have been preserved for generations and I also started to learn the secrets and therapeutic properties of Romanian plants from an early age. The difference was that at that time we always combined them by smell and not necessarily by their purpose. Now I also take into account the therapeutic properties of the ingredients in the Perfume Therapy services, in which the perfume turns into a "cure" for the psyche and helps to relieve insomnia, stress and other situations faced by customers.
As I grew older, I became more and more interested in the olfactory side, I picked, I combined, I experienced all kinds of maceration extracts and "magic potions" as I called them and I practically turned any game into a learning and creation process. Then specialized studies followed, but especially a lot of practice.
3. Why are Luviane products so special?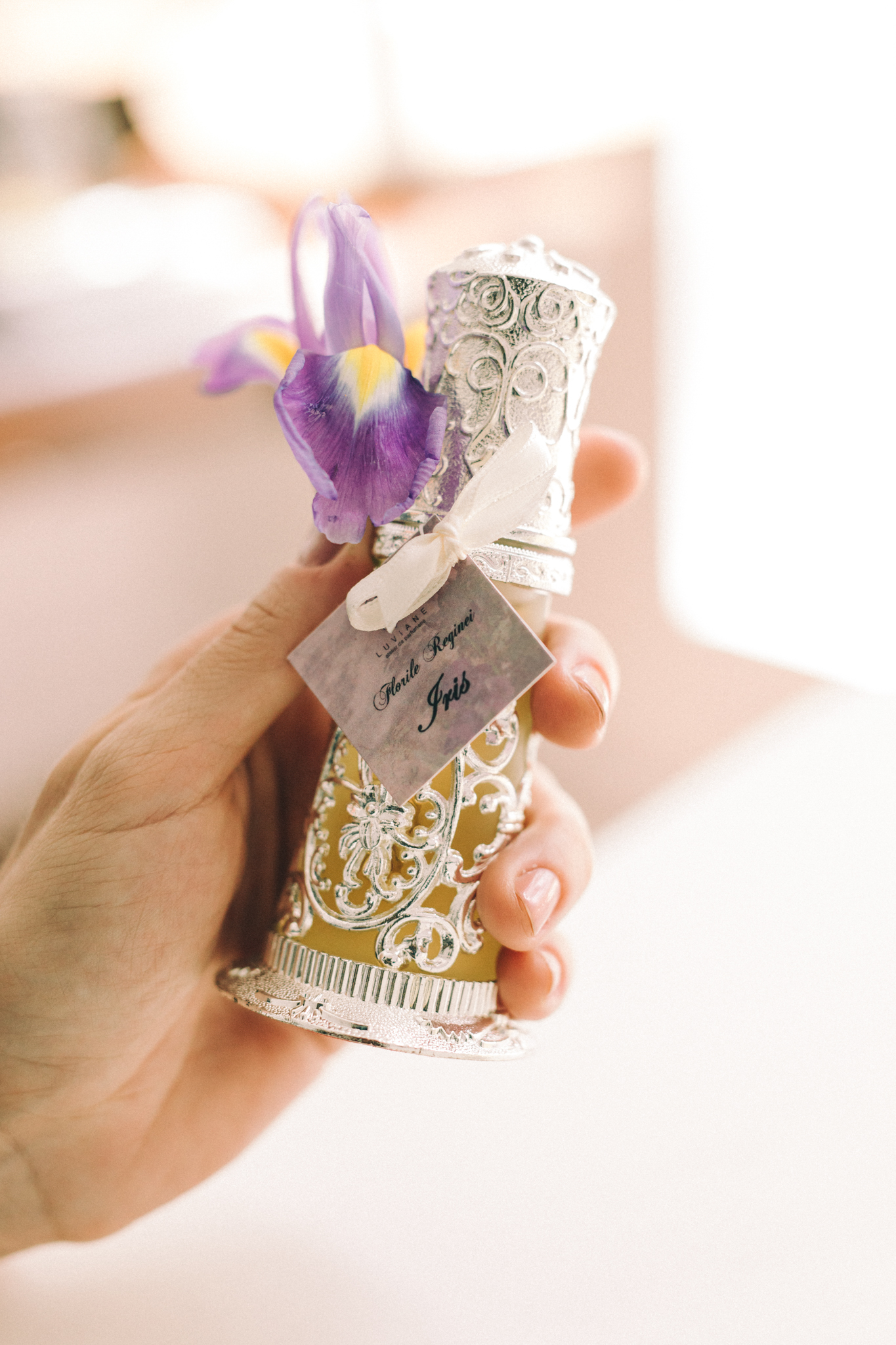 They are handmade perfumes created exclusively from certified natural ingredients, a large part of them even organic, gathered from all over the world. They are perfumes with a story, created by keeping elements of national identity through the use of plants with symbols from the Romanian folk traditions, love and lucky plants, but also through the graphic elements taken from the Romanian folk costume. They are states and hypostases transposed into perfume bottles and they represent fragments of history and mythology, but also of my life.
Luviane perfumes are also special because they are designed at much higher concentrations of essences than are normally found in natural perfumes. In general, natural perfumes on the market have low concentrations of essences because, as concentrations increase, the technological processes are more difficult and they require a lot of time and additional procedures in the production part. However, I wanted the perfumes I create to fall into the category of luxury, to persist as long as possible on the skin and to be very distinct in smell.
The solid perfume is a very special product, created in a base that is extremely gentle with skin and it retains luxuriant scents. It is a small, practical product that can be used even at the beach due to the fact that it does not contain alcohol. But the best answer to this question is the one given by my clients, namely the fact that they are "perfumes with soul".
4. To whom are these products addressed?
The products are aimed at niche perfumery lovers and those who have adopted a healthy lifestyle or have different affections and want or need to use natural perfumes. Considering that the perfume formulas respect the principles of Aromachology (The science that studies the connections between perfume technology and psychology), Luviane perfumes give a feeling of well-being and help to create a balance between body, mind and soul.
Then there are those who want unique experiences who come to create personalized perfume formulas within the Olfactory Workshops.
I like to say that Luviane products and services are addressed to connoisseurs and those who want to know and experience this area of perfumery.
5. Can you tell us a little about the perfumed jewelry?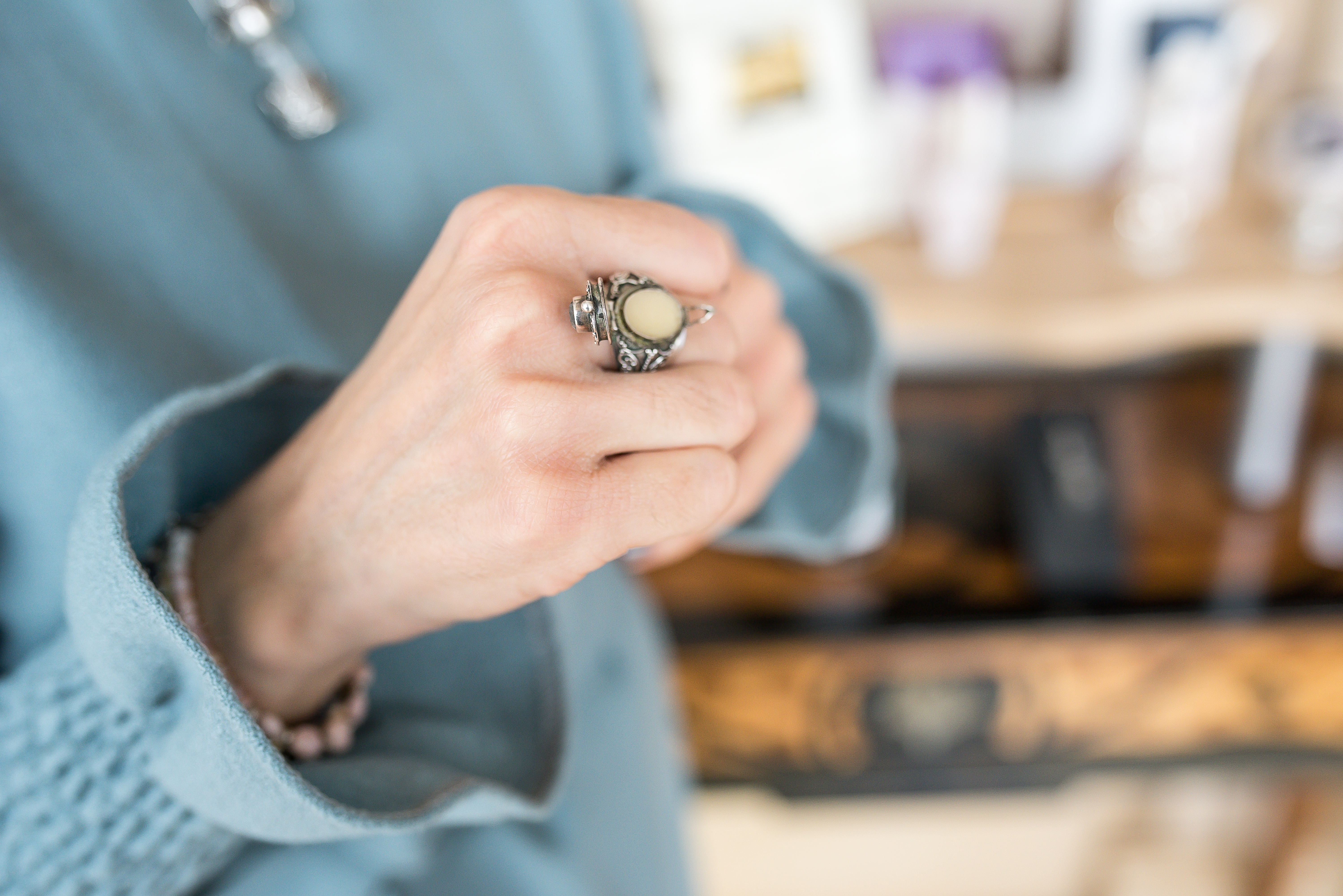 Perfumed jewelry is inspired by miniature containers worn by Victorian ladies on Chatelaine belts. When I found such a bottle in an antique shop, I immediately thought about the practical aspect of wearing my favorite perfume and also about how a precious piece of jewelry becomes mysterious by having perfume inside. At that time, I think that wearing the perfume "in sight" was also a manifesto, a form of revolt of the woman who had quite a lot of restrictions in society and here she exhibited the perfume in a fascinating way, which was considered a real weapon of seduction that normally lies in the privacy of the boudoir.
Of course, if we analyze in more detail, we can think of Caterina de Medici and Lucretia Borgia and their poison jewelry.
6. How long does the process of creating a perfume take and what are the steps you need to follow for spectacular results?
First of all, it takes time to complete the formula and here it is difficult to estimate. Sometimes it takes a few years for the perfumer to be satisfied with the product. There are so many details and sometimes it takes until that magic ingredient is found. Plus, until a final formula is reached, there can be failed experiments. Then there are the maturation periods, which in the case of natural perfumes last up to 8-10 weeks. The technical procedures follow, such as the flows that are performed with the help of specific lines in the laboratory, tests, packaging, analyzes.
7. The "DOR", "Miresme Românești" and "Florile Reginei" collections caught our attention. What can you tell us about them?
The "DOR" collection is an interpretation of some hypostases that I experienced... they are practically my emotions transposed into perfumes. There are states of joy that I wanted to keep alive in a way and pass them on to people. There are longings of mine that I keep in my soul related to seemingly simple things such as a flight of birds (A Divine Flight), a spectacular sunset (A purple twilight), the harmony of nature (Celestial Harmony), the atmosphere before a storm on the Mediterranean (Magic Winds). And I wanted it to be DOR because that word is also part of the national identity.
The "Romanian Fragrances" collection is about life and about the hypostases in a woman's life, starting from childhood and going through the classic stages. "Flower Fairy" is a perfume for little ladies, being created only from ingredients suitable for children. Then follows Dryada and the search for the soul mate with specific symbols, Mister an aphrodisiac perfume about the seductive woman, Matronalia is about the hypostasis of the wife and Kotys about the mother. The perfume dedicated to the mother's posture is created only from ingredients allowed during pregnancy and lactation. I also felt the need for a dynamic perfume in the collection and this is how the Darzalas men's perfume appeared.
The "Queen's Flowers" collection is dedicated to Queen Maria of Romania, each perfume having in the foreground a favorite flower of the Queen and aiming to capture a side of her personality. The first perfume in the collection, Violete, is about the depth and a certain maturity of the woman while Reverie, a perfume with the main note of hypnotic and overwhelming tuberose, is about beauty and the ability to seduce through a feminine attitude, being a perfume that invokes love. The third perfume in the collection, Iris, is "a perfume with love". Iris, the newest perfume in the collection, brings to the foreground that total love that overcomes all obstacles, a love that Queen Mary manifested until the last moment with joy, longing and nostalgia.
8.  What inspires you to create perfumes?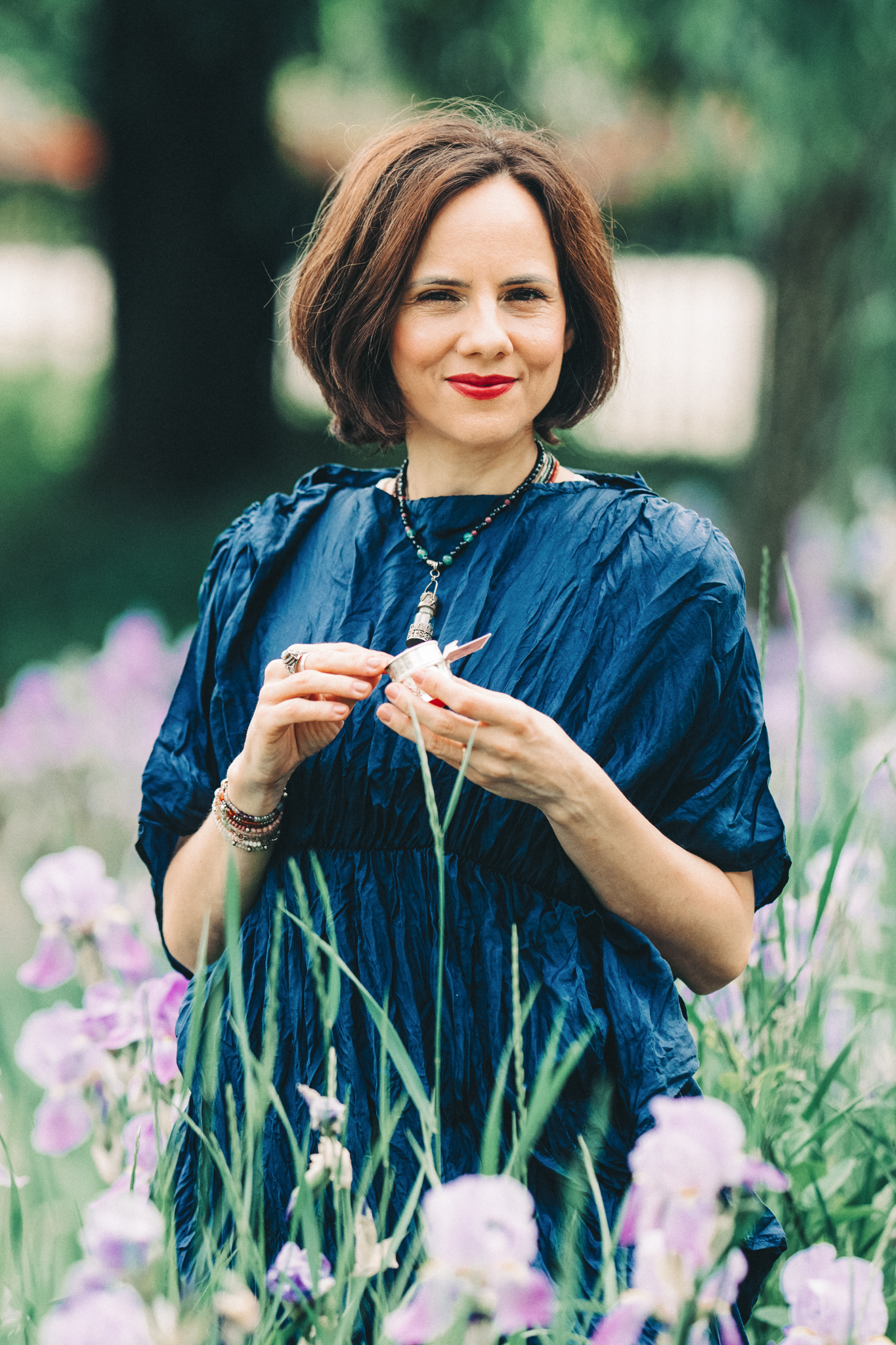 Anything can inspire me ... a flower, an emotion, a character, a state, a color, a stage or a life event. In general, everything I experience in one way or another can be a source of inspiration, and muses are everywhere.
9. Both we and our readers would love to receive advice from an expert on the correct testing of a perfume. What can you tell us about this?
There are many details for testing a perfume to be an experience to enjoy in every way. When we go to test perfumes it is important to do it in the first part of the day, when the olfactory system is rested and we must go unscented. It is important to know what kind of perfume we want (day, evening, for a certain event or at least what main notes we want to contain), because this way it is easier for the perfumery consultant to help us. A maximum of two perfumes are tested on the skin, one on each hand. And an important rule that is generally not taken into account I will mention in the answer to the next question.
10. We are all fascinated by perfumes and very curious to find out why perfumes change their scent shortly after application. Can you help us with an explanation?
The explanation is simple... the top notes of the perfume that evaporates in a fairly short time 10-30 minutes after application. And to complete the answer to the previous question, it would be good to leave the perfume on the skin in peace to tell its story after application. Thus, we realize if it persists, how it transforms on our own skin and especially we will know if the perfume tested is that perfume that brings us joy from the first to the last olfactory note. The recommendation is to wait at least 2 hours before the purchase.
11. How long does the scent of a natural perfume last and what is the difference between that and the synthetic one?
In addition to being accepted more easily by the body because natural ingredients are much more easily recognized by the brain, natural perfumes are from my point of view much more... personal because they transform on each person in a unique way. We can even consider them to some extent personalized perfumes.
Regarding the persistence, I do not think that the categories can be distinguished in this way. Indeed, natural perfumes, as I said, generally have low concentrations of essences and does not persist too much on the skin. It is also important what kind of essences are used to create natural perfumes, because a perfume that mainly contains essential oils will persist less than one created from precious essences such as absolutes and concretes.
The concentration of the perfume (Eau de Toilette, Perfume Water, Elixir) and factors such as the pH of the skin, the body's hydration level, the type of diet and many others that also contribute to the duration of the perfume on the skin, but also to the different way scents are revealed on the skin.
Luviane perfumes are created mainly from absolutes and concretes, at concentrations of Perfume Water and even Elixir just to persist on the skin as much as possible. For example, a Perfume Water persists under normal conditions for up to 8 hours on the skin, and an Elixir can persist for more than 24 hours.
12. How do you see the Luviane brand in 5 years?
In 5 years, I foresee a much bigger and maybe even more beautiful Luviane community than it is today. We have beautiful plans and unique projects for the brand both in terms of launching new products, very necessary on the market in the current context, and in terms of services and collaborations in the country and abroad. In short, I see it as a visible and bright brand both in Romania and abroad.
---
Images source: Luviane Personal Archive