We know you missed seeing a theater play and listening to the melodic chords of jazz, blues or cafe-concert. Starting today, 3rd July and until 26th July, you can do this during the festival "Theater under the Moon", which will take place at the CoOperativa Terrace, from Friday to Sunday, between 6 PM – 10 PM. Also, these evenings will be animated by exhibitions of painting, drawing, costumes, sculpture, or book launch.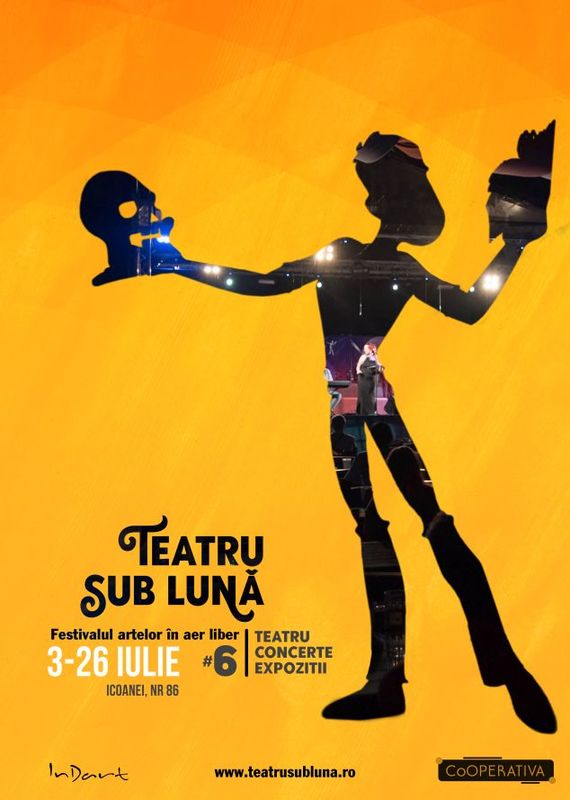 Image source: www.facebook.com
The ticket price starts from 50 lei and it can be purchased from:
or by phone and should be paid to the CoOperativa Terrace within 24 hours
Among the theater plays you can watch at the Theater under the Moon we mention: Who do I marry ? (Eu cu cine mă mărit?), Lunch mistress (Amanta de la prânz), My dog ​​has no nose (Câinele meu n-are nas), Your love pisses me off (Iubirea ta mă calcă pe nervi).
Remember that safety measures must be maintained throughout the event. Each spectator has the obligation to come to the event 60 minutes before its start. Wearing face masks is mandatory throughout the event. At the entrance to the CoOperativa Terrace, there will be disinfectant that you will be asked to use. All people who will come the event will be thermoscanned. Also, the tables will be placed at least 2 meters away to keep the imposed distance.
We are waiting for you at one of the most beautiful events of this summer! Buy your tickets as soon as possible! Seats are limited!
---
Featured image source: www.erstebank.hr
Listing image source: www.pauldutu.eu