We have proposed to find put something from the backstage of a makeup artist and, in addition, to understand what does a Personal Makeup Shopper, which is why we have asked a few questions to Alina Harabagiu, who knows how to accentuate the beautiful female features and who proposes, through her new project, to teach them how to emphasize their natural beauty.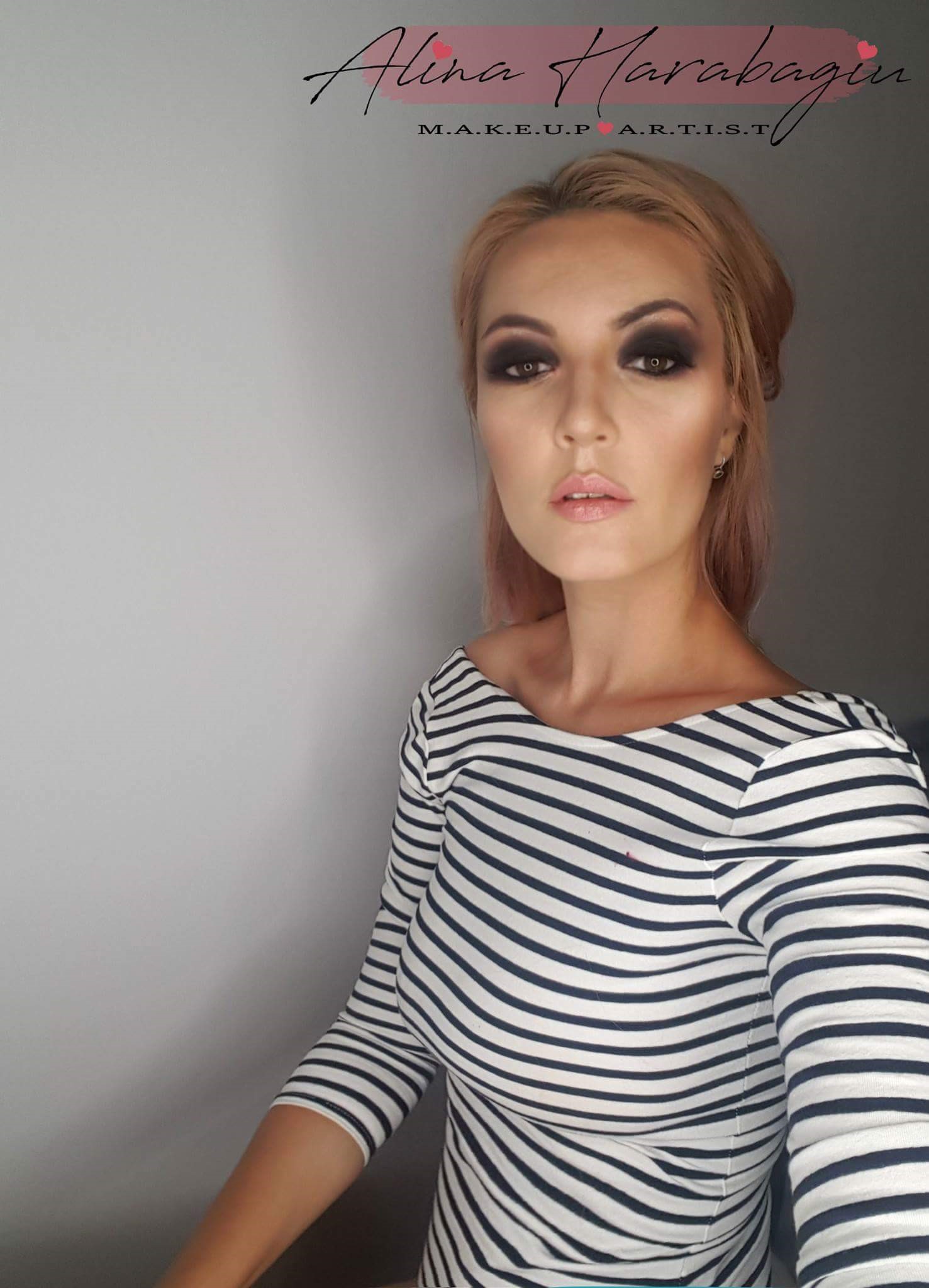 Where did your passion for makeup came from?
It came from my love of painting/drawing. I have always painted and drawn on canvas, textile and wood. Somehow, in the past two years, I've decided to paint also faces, not only canvases ☺. I like transformations and I wanted to try.
What does it recommend you as a makeup artist?
Firstly, I think that passion recommends me. I put a lot of soul in everything I do and I am very attentive to details. I work together with the client: she always looks in the mirror and, at each step, she observes the direction in which I want to get with her makeup. With each makeup I try to go beyond my limits.
Secondly, I am very keen on learning and, thus, I permanently look for courses and masterclasses that can help me accumulate additional information and more experience. I believe that I always should be in the top, when it comes to technique, for the clients who choose my services. Almost 99% of them have left my hand free, which is, for any artist of any kind, heaven on earth.
How did the idea of your new project, Personal Makeup Shopper, appeared?
The idea was, somehow, offered by my clients. During makeup, I usually tell them, step by step, what I am doing, to make them feel more comfortable and to help them learn from the makeup experience. In the same time, they told me that they have makeup products that are left for 2-3 years in a cosmetic bag, without being used. This happens because they haven't chosen them in accordance to their skin complexity or because they have bought them in a hurry or for their pretty package.
Moreover, I thought that such an experience of Personal Make Shopper would be very helpful for any woman who want to learn how to buy makeup products that are suitable for them. Not because they are trendy, but because they are good for THEM and they look divine. Also, the clients who appeal to this experience will learn not only what products to buy and where to buy them from, but also how to use them right.
What is the feedback that you've received from the ones who chose to be a part of your project?
Their feedback was a very good one: that it is an innovation and that they would certainly appeal to it. I have also received feedback from men, saying that it would be a great gift for their wife, mother or a good friend.
What budget do you recommend for the person who goes with you to shop for makeup products?
The budget that I have established for my presence with the client in the 2 days is 90 euros. For buying the makeup products, she will need another budget, depending on her possibilities. Here I have come up with 3 types of packages: a Basic one, that includes a full kit of recommendations of products that have a smaller price, but are qualitative; a Medium kit, which contains both types of products – those that have an acceptable price and those that are expensive, but professional; and a High kit, which includes products that are more expensive, most of them being professional. By making these kits I wanted that every client to be content and to see that she can find wonderful products that are also acceptable. Moreover, through this project, I want to teach my clients not to be afraid of makeup shopping anymore☺.
I understood that the project is running for two days, 4 hours/day. Can this program be prolonged, in case a client considers that she still has to learn from you?
Exactly. The experience will be structured on two days, 4 hours/day:
First day (4 hours):
We see the existing makeup set

We determine the complexion type and the client's makeup preferences

We visit the makeup shops to choose the right products (basic ones for an everyday makeup, but also products for a special occasion makeup)

We choose the products according to the established budget
Second day (4 hours):
We test the products we bought and we learn how to use them right

We learn how to correctly create an everyday makeup and one for a special occasion (clients can choose from Smokey Eyes, Pin Up, Cat Eye etc.)
Of course, I am very flexible in what concerns the structure of the program. A client asked me to do both parts in one day, because that program would be more accessible to her. As far as my availability is concerned, I will do my best to synchronize with my client.
What is the most common mistake a woman makes when she's applying her makeup?
I think the most common mistake a woman makes is to assume that a makeup she has seen in a magazine will fit her like a glove. Most of the time, it is not the case. She needs to know and understand her face's form, her eyes and the range of colors that make her feel good. We're all different, and makeup should be used only to create the best version of yourself. If you know how to follow a few steps, then you will be very pleased with your makeup and you will realize that not all of us are comfortable with a certain makeup style or color, although you like it very much or it is in trends.
Is there any beauty product you could not live without?
In my case, if I have a concealer and mascara... I'm good to go. And maybe a foundation... and a little bronzer... I can't help it, I'm a makeup junkie. ☺
If you were to make a top 5 of your favorite products, how would that look like?
Face & Body foundation from MAC. Although it has low coverage, it is very moisturizing and does wonders on our skin attacked daily by all the harmful factors that dry it and damage it. I just love it.

The Maybelline Fit Me concealer. It has an excellent price, great coverage and, in addition, it moisturizes the area under your eyes. Did I say that it has a price of up to 30 lei? Wonderful product. I have rebought it 10 times so far.

The Bronzer Butter from Physicians Formula. Unfortunately, it cannot be found in our country. It is wonderfully creamy, resistant, and smells like coconut. It makes the skin look healthy and a little glowy. Fantastic! Ah, and I would put the Benefit Hoola Bronzer in the same place.

The Lipstick Palette from Anastasia Beverly Hills. For a person who likes colors, this palette is great. You can combine the primary colors and you can get any color you want. In this way, you do not clutter your makeup kit with voluminous lipsticks. I love it and I use it all the time.

The last product I prefer is the Fixing Spray from MAC Fix Plus. Without it we cannot fix the Fairy Dust ☺. Indispensable.
In the end, could you give us a piece of advice as a beauty expert?
I would not call myself a Beauty Expert, but rather a Beauty Seeker with another vision ☺. I like naturalness, but I also like the radical transformations... there's a big battle in the middle. I would like every woman to find time to make experiments. Makeup is empowering. Just a red lipstick on your lips and it already feels as if you are walking differently. Dare more, but do not exaggerate. You must be yourself, but the version 2.0. ☺
---
Featured image source: www.goodhousekeeping.com
Article images source: Personal archive Alina Harabagiu