The intense pulse light epilation (IPL) is a treatment that helps you to permanently remove your hair from any area of the body with less pain than normal epilation. This is done progressively after a certain number of sessions, depending on the chosen area.
During this process, with the help of light, the hair follicles deteriorate without damaging the other tissues. In this case, the absorbing light is melanin, which leads light to hair follicles destroying the cells that nourish the hair. After applying this treatment, the hair has a lifetime of 15 days and then dies and falls. At the end of the intense pulse light treatment, the hair is removed by 90% and the remaining hair is very discolored and thin.
This is a process that is appealing to more woman being an effective remedy for the time you lose every month at a beauty salon. If you decide to try definitive epilation with IPL, you can choose one of the following aesthetic institutes in Bucharest: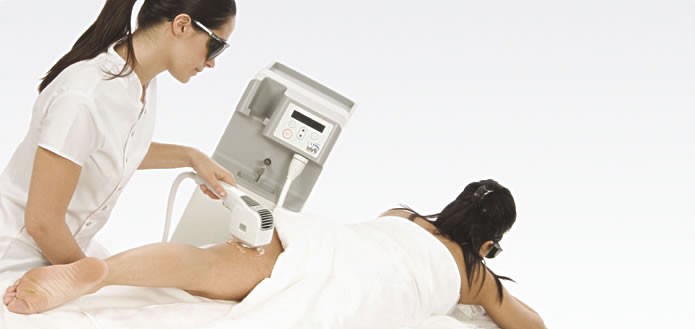 Image source: www.microderma.ro
1. goSkin Medical Aesthetic Institute – www.goskin.ro
The goSkin Medical Aesthetic Institute proposes a package of 5 sessions for definitive epilation on the area of legs and knees, which induces the hair to be in abeyance for 7 years until it resumes its natural cycle. The price for this package is 1370 lei.
You will find the Institute in the following locations:
goSkin Victoriei – 21 Sevastopol Street;

goSkin Nord – 14 București Nord Avenue;
 
2. Chic Salon – www.chicsalon.ro
At the Chic Salon you will find efficient and safe technologies and the consultation and the first session of IPL is free. The price of a definitive IPL hair removal session is 320 lei.
The Chic Salon awaits you in the following locations:
Chic Salon Izvor – 22 Libertății Boulevard;

Chic Salon Titan – 6 Pictor Gherghe Tattarescu Street, bl. P2, Entrance C, ap. 44;

Chic Salon Dacia – 79 Silvestru Street.
 
3. Salon Magic – www.saloanelemagic.ro
Each Magic Salon awaits you to try out the new Kuantum IPL for permanent hair removal. The price of such a session for legs is 330 lei. These salons are are present in several areas in Bucharest, such as Băneasa, Victoriei, Militari, Drumul Taberei, Lacul Tei, Vitan, Titan, Berceni. For the full list of Magic Salons visit www.saloanelemagic.ro.
4. Herba Dermatologie – www.clinicadermatologie.ro
The Herba Dermatologie clinic uses a unique technology to ensure the efficiency and safety of treatments made inside the clinic. The equipment used for IPL epilation is provided in collaboration with Eurofeedback EFB Beaute, a well-known French manufacturer with over 28 years of experience in this field.
The price for a definitive IPL hair removal session for legs is 920 lei. Herba Dermatologie Clinic awaits you on 163 Nicolae Titulescu Street, bl.20, entrance 3.
5. Veronique Beauty Center – www.veronique.ro
Veronique Beauty Center awaits you on 72 Lacul Tei Boulevard with performant equipment for definitive hair removal with IPL. A permanent hair removal session for legs with this equipment is 350 lei.
Regardless of the area you choose to apply this definitive hair removal method the sessions will not have a standard number because the results depend on the age, color and thickness of the hair, but also on the type and color of the skin.
Results will be visible within 2 weeks and experts say they have an average duration of 4-7 years, during which at least one maintenance session is required at a 6-12 months interval.
So, get rid of the unwanted hair and enjoy a soft and smooth skin without worrying about the barely-grown hair that you cannot easily remove.
---
Featured image source: www.bydeals.net
Listing image source: www.sandrab.ro