Do you dream of the perfect honeymoon? Or do you just really wish to have an exotic holiday, where you can relax and have the best of everything? We have found the ideal option that you definitely can't refuse – Seychelles! This country includes 115 islands and is often considered a true paradise, with landscapes that take your breath away, wide beaches, with white, fine sand, and palm trees swaying in the wind.
We must mention from the start that Seychelles is a destination for people willing to bear high (but honest!) costs for premium services, which ensure an unforgettable experience. According to weather statistics, the best months to visit this country are February, June, July and September. So if you want to have a special holiday, choose Seychelles. We have proposed the period 15-25 July 2019 for this DIY holiday for 2 people, and we invite you to read our recommendations below.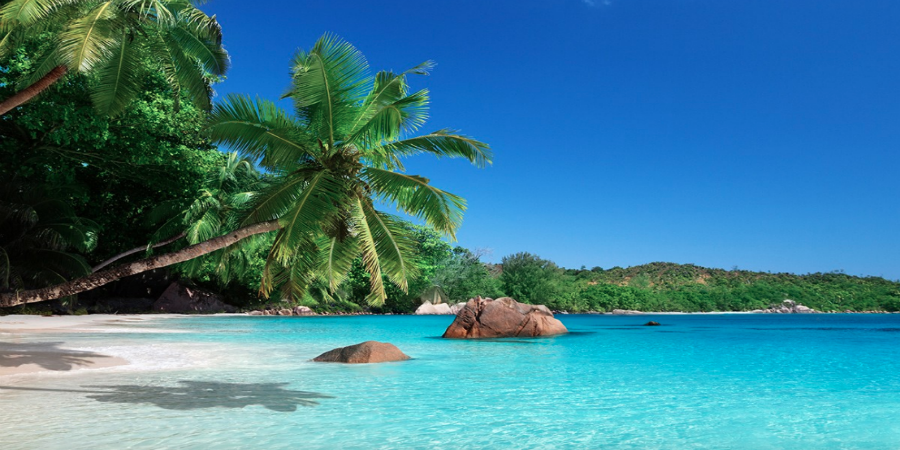 Image source: www.travelshoppe.co.ke
Plane ticket:
          15th – 25th July 2019: round trip, with luggage included esky.ro – starting from 1897.21 euros/2 people
Accommodation:
          1. Le Domaine de L'Orangeraie Resort and Spa – La Digue – www.booking.com – 28681 lei
          2. Constance Lemuria Resort – Praslin – www.agoda.com – 33978.96 lei
          3. Four Seasons Resort Seychelles at Desroches Island – Desroches – www.hotels.com – 36030 lei
Usually, people who choose Seychelles as their holiday destination dream of spending hours on the beach (and who can blame them, when these beaches look like they're straight out of magazines?!), but if you're a person who likes exploring, you should know that this archipelago offers active people numerous ways to spend their time. For instance, you can choose to visit the capital Victoria, go on a boat tour on one or more islands, do snorkelling or other water sports, etc.
We hope you will fully enjoy everything that Seychelles has to offer, and we can't wait for you to tell us about your experience on this archipelago!
---
Featured image source: www.findingtheuniverse.com
Listing image source: www.telegraph.co.uk