We are in the cold season, and our hands are among the most exposed body parts, so intense care is essential. When it comes to moisturizing products, they should be chosen with great care depending on your skin type, but for those who have extremely dry hands, I recommend the Eau Thermale JONZAC Nutritive hand cream.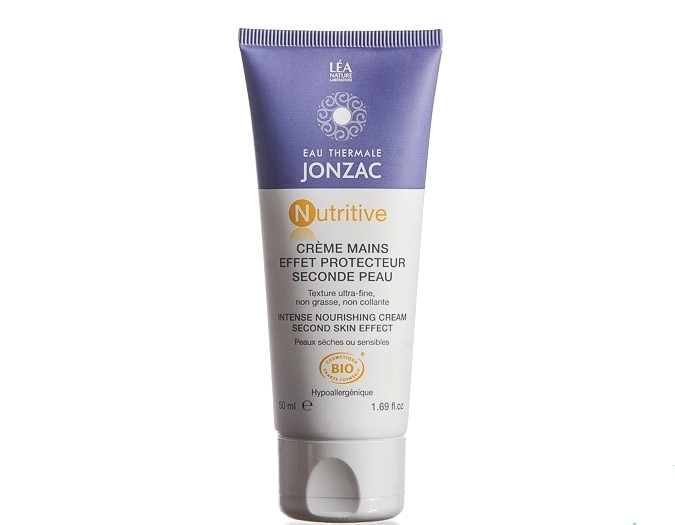 Image source: www.farmacie.md
 
In the long search for a product that would intensely hydrate my very dry hands, I had the opportunity to try out many creams that had an optimal effect only for a few tens of minutes after usage. Eau Thermale JONZAC Nutritive is different. It was recommended by a pharmacist, but I didn't think I would fall in love with this cream ever since I first used it.
Thanks to its light texture, it forms a non-fat film that deeply protects and hydrates the skin, creating the second skin effect.
It is a hypoallergenic and organic product with the following key ingredients:
Shea butter with a nutritious and calming effect on the hands

JONZAC thermal water (20%) which moisturizes and has an anti-inflammatory effect

Vegetable Squalan, made from olives, which provides intense hydration and repair of dry and cracked hands

Estolides made from Meadowfoam seed oil which moisturize without leaving the skin oily and sticky.
When I want to buy a cream I always look for one that is waterproof and doesn't leave the skin oily, but, at the same time, hydrates intensely, repairs and softens very dry and rough hands skin.
All in all, the Eau Thermale JONZAC Nutritive hand cream is perfect for dry and sensitive skin and with every application it will protect your hands because of its second skin effect, enveloping them in a discreet smell of shea butter.
---
Featured image source: www.cwebhealth.com
Listing image source: www.bild.de