Almost all women face one of the biggest problems affecting their self-confidence - cellulite. Although it's not itself a disease, it's an accumulation of adipose tissue in the thighs, hips, abdomen and sometimes in the arms, giving the unsightly appearance of orange peel.
Many of us believe that only overweight or prominent people are affected by cellulite, but this is not true. It can be seen even on people with a normal weight.
Are adopting a healthy lifestyle, a balanced diet and sports the key to getting rid of this condition? They really help a lot, but we also need to resort to other solutions, such as the anti-cellulite massage that you can benefit from at the salon or you can do yourself, at home.
 
I chose the second option. Cheaper and, to my surprise, with almost the same results as the anti-cellulite massage performed in a salon. After much research on the Internet, I chose to use Cellufight Cryo-Sculpt Gel from Elmiplant, as written on it, with 2 applications per day.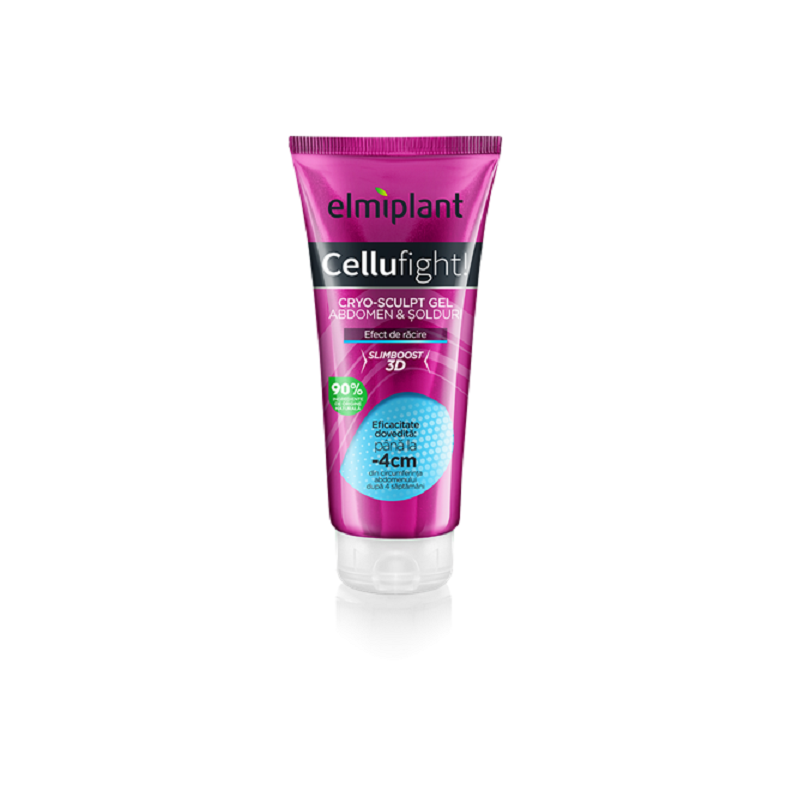 Image source: comenzi.bebetei.ro
Right from the start, it envelops you with a fresh scent. The application is extremely easy: you can start with low intensity circular movements, then you can increase the intensity until all the cream you have applied has been absorbed into the skin. The effect, in the first phase, is of intense cooling, followed by heating. The light formula is quickly penetrating the skin without leaving greasy traces. After about 4 weeks, the results are visible! The circumference of the abdomen is reduced by almost 4 cm, that of the hips by almost 2 cm, and the appearance of orange peel is visibly diminished.
Cellufight Cryo-Sculpt Gel contains guarana, an extract with a high caffeine content, which helps activate micro-circulation, seaweed extract, which helps eliminate excess water from the tissues, leaving the skin toned, and vitamin E, which has antioxidant properties and restores the smooth appearance of the skin. Also, the SLIMBOOST3D complex is a powerful asset of natural origin, which provides triple protection against cellulite.
If we have convinced you that Cellufight Cryo-Sculpt Gel from Elmiplant is the right formula to get rid of cellulite, here are some websites where you can order the product:
Don't forget! The effects are visible even faster if you have a balanced diet and you constantly workout and consume at least 2 liters of fluids a day!
---
Featured image source: mabuhay-heidelberg.de
Listing image source: www.eva.ro