When we talk about skin, each of us looks for the best products. However, these should be carefully chosen according to the type of your skin. The safest way to choose the right product is by asking your dermatologist, who can guide you to a specific range of products. For normal to oily and acne-prone skin, we recommend you an exfoliating-tonic with great results - Biotrade Pure Skin.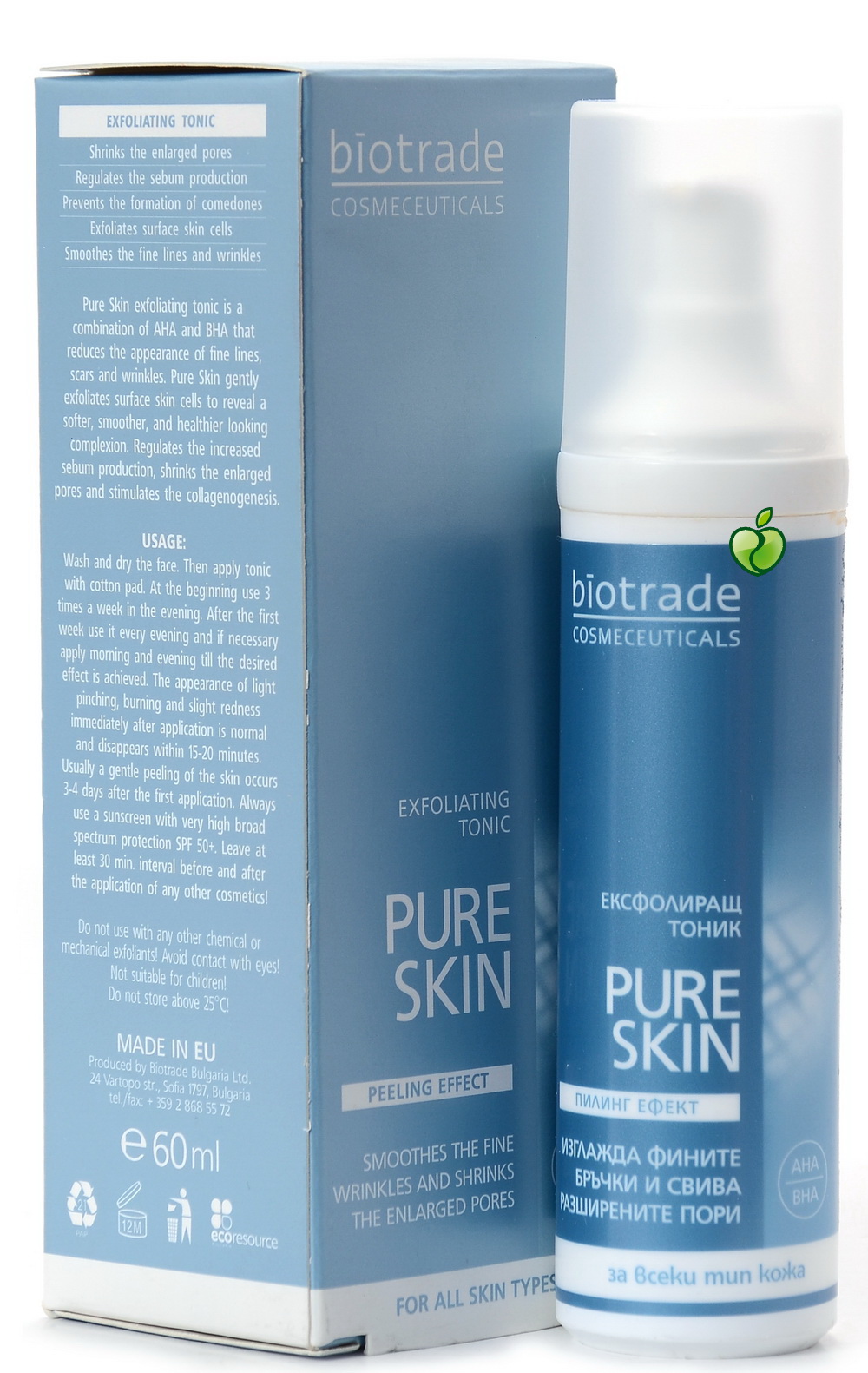 Image source: befit.bg
The tonic we have chosen to present you has a peeling effect, gently exfoliating the top layer of skin cells. This will give you a soft and healthy look by smoothing your skin. Pure Skin tonic produces an extensive range of beneficial effects on the skin, such as tightening the enlarged pores and regulating the increased sebum secretion. It also has a lifting effect, smoothing the fine lines, scars and wrinkles. Last but not least, it stimulates the collagenogenesis and the skin regeneration.
Thanks to its benefits, Pure Skin tonic is ideal for normal/oily and acne-prone skin. Also, it is recommended in case of scars, fine wrinkles, blackheads and enlarged pores. It helps to improve and hydrate your skin.
When using Pure Skin tonic, you should carefully read the product's instructions. It is recommended to apply the tonic 3 times a week, preferably in the evening. The skin should be washed only with water and patted dry before you apply the tonic. If you do not see an improvement, you can use the tonic every day. Be careful not to exaggerate using it in case of sensitive skin or a harsher initial reaction. To achieve the desired result, you can establish, with the help of your dermatologist, how to use the tonic.
It is recommended to use a sunscreen with a very high factor SPF 50+. It is also good to avoid using cosmetics 30 minutes before and after applying the exfoliating-tonic, because combining them might cause an adverse reaction.
For proper use, we recommend you to contact your dermatologist or pharmacist before applying the product.
The Biotrade Pure Skin exfoliating-tonic can be purchased from the following websites:
---
Featured image source: www.bikinibod.com
Listing image source: www.bikinibod.com