Also known as water aerobics or aqua fit, aqua gym brings the gym movements into the pool. Ideal for any age and even for those who do not know how to swim, this sport does not have a negative impact on the body due to the environment in which it takes place.
In one session, you will work all your muscle groups, and at the same time, you will relax your body and mind. So, here are 5 gyms in Bucharest where you can do aqua gym: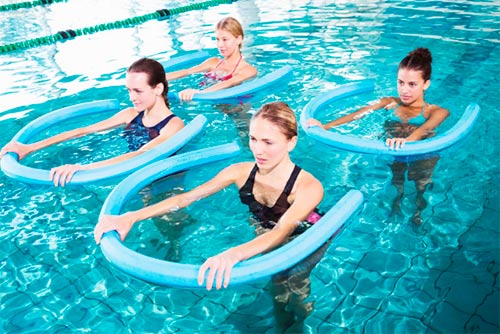 Image source: f-ifks.udsu.ru
1. Aqua Life – aqualife.ro – 8 Berceni Avenue;
Session price: 30 lei
2. Viva Sport Club – vivasportclub.ro – 103 Olteniței Avenue;
Session price: 60 lei
3. Body Exprim – bodyexprim.ro – 29 A Constructorilor Boulevard;
Session price: 50 lei
4. Centrul K Sport – k-sport.ro – 21 Valea Cascadelor Street;
Session price: 35 lei
5. Orhideea Sport – www.orhideeasport.ro – 145 B Calea Plevnei;
Session price: 7 euro
Specially designed for those who want to avoid joint shocks that occur during aerobics and fitness classes, the aqua gym is great for anyone. We encourage you to try at least one session. We are sure that you will fall in love with this sport and will return to the aqua gym classes with lots of motivation and pleasure.
---
Featured image source: le-nautil.fr
Listing image source: www.dynamic.rs