Maria Tureanu (Dermengiu), painter, visual artist, founder at Marie Nouvelle
1. To start with, what can you tell us about your passion for painting and how did you discover it?
I had the inclination for shapes and design from an early age, because I traveled a lot and I had the opportunity to see a lot of places full of culture and history, I met the great museums and galleries when the sense of aesthetics and beauty is outlined in the consciousness of the child who becomes an adolescent.
The passion for Art was naturally born from the need for the world around me to make sense, to be harmonious and to express what I often feel in my inner forum.
2. You graduated from law school and then chose to paint. How did this change occur?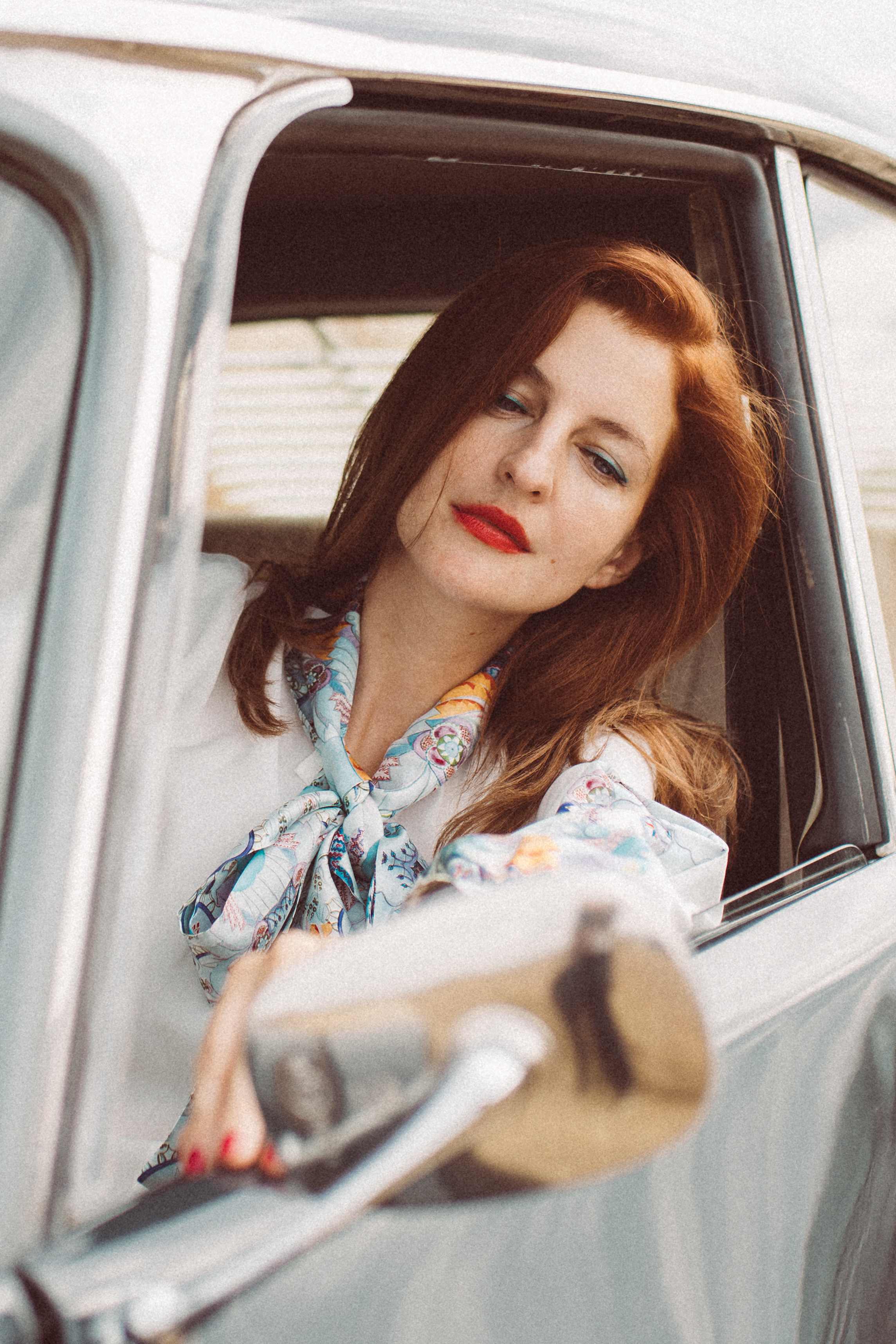 Almost 11 years ago, at the age of 27, I decided to make painting not a hobby, but a jobby, giving up the profession of lawyer, after two years of internship. During my maternity leave, I started to ask myself questions about meaning, contribution, questions that we all ask ourselves from time to time... The answer about my identity came as a surprise one morning: 'Maria has to paint.' I bought colors and brushes and dared to try my hand.
I was admitted to the University of the Arts London, but destiny made me stay in the country and try to accomplish my mission on my own. I then attended the School of Arts here, the painting department for three years.
3. When did you have your first exhibition and how did you feel as a painter recognized and appreciated for his work?
I had my first exhibition a year after I started painting, at the encouragement of a former teacher from "Belle Arte" who organized it for me in her exhibition space. It was also the first time I sold everything, which encouraged me to continue on this path. Later, I grew a lot as an artist, which still satisfies and stimulates me.
4. Tell us a little about your job, what it involves and also what are the limit situations you have gone through so far.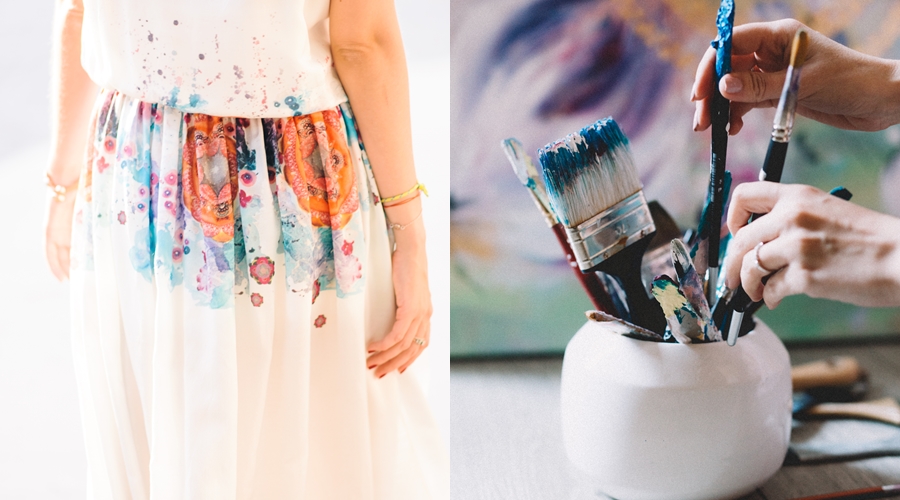 Being an artist is not easy. Although creativity is an innate skill, it must also be stimulated. Moreover, it is important to communicate, to communicate yourself as an artist, your vision and to succeed in bringing others into your world. Last but not least, to expose yourself – which is the most difficult for me, because without the human being and the emotions of his or her world, no painting would have the load of intrinsic value attributed to his or her drawing. I think it takes courage to listen to yourself, to follow your intuition, although nothing in the outside world supports your cause - not diplomas, assessments, masters, competitions. "Courage is not the absence of fears, but the power not to be paralyzed by them." I come from a very conservative family, with pragmatic profession, well anchored in reality. For a year I was asked 'Who do you think you are to do what you do? Has anyone certified you? We are here to cast doubt on you.'
5. Did you have or do you have a favorite painter? If so, can you tell us their name, and why they impressed you?
Of course, I have many favorite painters who inspire me through the color palette they use or the shapes they create. Among the most famous are Monet, Rachel Ruysch, Georgia O'Keeffe, Van Gogh, the Japanese art wabi-sabi with its artists, and Oravitzan, Ștefan Caltia from Romania.
6. How do you find your inspiration the create these wonderful paintings?
Inspiration comes from everything I see around me, from what I cultivate within, from the experiences I had. It is important to travel, to rest, to put ourselves in a state of introspection that allows us to feel as much as possible. Sometimes you don't even need to travel, just to pay attention to everything around you. When you paint, you translate a part of yourself to the world. You put some of your emotions on the canvas and you can't hide. You are what you create.
7. Can you tell us a little bit about the Marie Nouvelle project? How did it start?
Marie Nouvelle is my soul project, a business that has developed as a result of my love for art and my desire for it to be worn, to be accessible for as many people as possible, so they will be able to enjoy it in a different way. Shortly, Marie Nouvelle transposes a special world taken from art and printed on fine, natural fabrics. Pattern, design, accessories, fashion.
8. To whom are the Marie Nouvelle products addressed?
Marie Nouvelle addresses to the refined, cult, bohemian, practical woman who has the soul of an artist.
9. Which is the creation process for these products?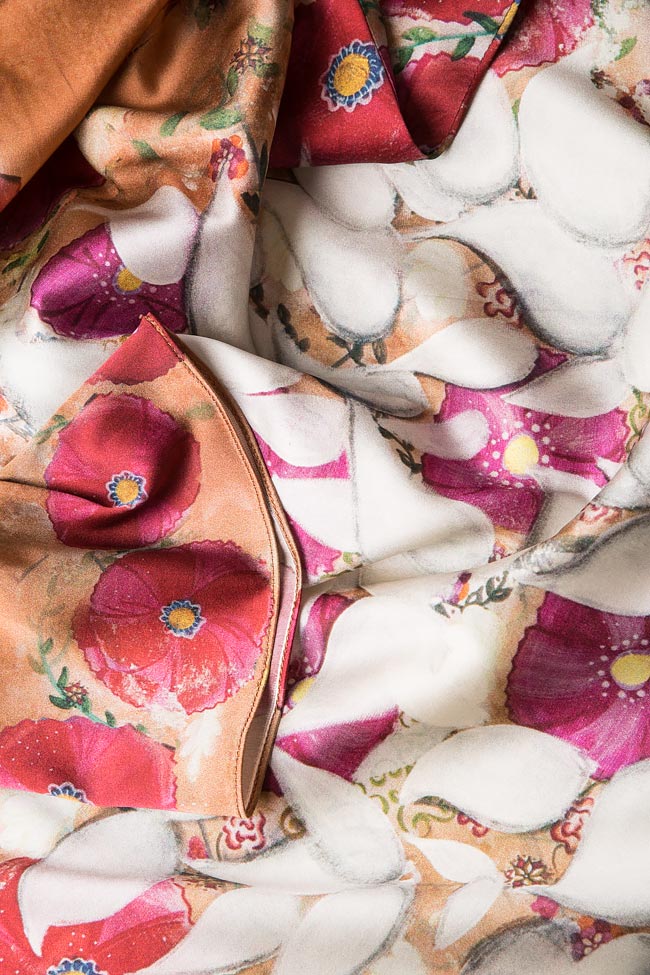 The scarf is a welcome accessory in any wardrobe, being suitable for any season. A scarf made of real silk is an investment that you can wear for years on end. The whole process begins not in the factory, but long before, namely in the mind of a creator, in the depths of the imagination of an artist who shares to others a delicate world, an open inner world.
I address, first of all, to those people who have a pronounced affinity for art. The pieces and decorative finishes bearing the Marie Nouvelle imprint are special due to the color filter and the painting technique used as a source of inspiration. The geometry or, on the contrary, its lack is the imprint of the hand drawing, without computer graphics. The patterns increase as I paint. I need time to create, to organize exhibitions and only then I will think about what is suitable for these products.
The patterns are thus developed from painting and adapted to certain dimensions. The images of the paintings are converted into digital media to be printed at the factory. The material used and the visual impact that one model or another will have on the viewer must be taken into account.
This is followed by the selection of suppliers, the tests on the material, the completion of the orders in the factory and the bringing of the materials to the tailoring workshop to be finished and packed.
At the moment, we are collaborating with printing factories in London due to the high-tech equipment they have. In comparison to the equipment we have available here in the country, theirs can print on much larger surfaces. For this reason, all the services they offer raise costs at European level. The applied arts products come in limited series because the production takes place on a small scale. 
10. Besides painting, what other hobbies do you have in your free time?
Gardening. I love flowers very much, so I take care of them with great love and attention. Then the car races and the motorcycle rides with my husband.
11. We like Romanian brands and support local shopping. Can you tell us some Romanian brands that you like or Romanian designers that you appreciate? (They can be fashion or deco brands, small manufacturers etc.)
I'll start with my favorite accessories, after the scarves 😊 namely the hats: Fandacsia, Lia Essentials leather bracelets, Lisa&Co pearl jewelry, Wagner Arte porcelain, Bianca Popp casual outfits, Les Vacances d'Irina, shoes from Coca Zaboloteanu, home design from Mind The Gap with which I had beautiful collaborations, delicious spreads from Secretele Ramonei, cakes from Cărți, Dulciuri și Flori.
There would be many other local artisans and small producers worth mentioning here, but for now I will limit myself to the short list above.
12. What are your plans for the future?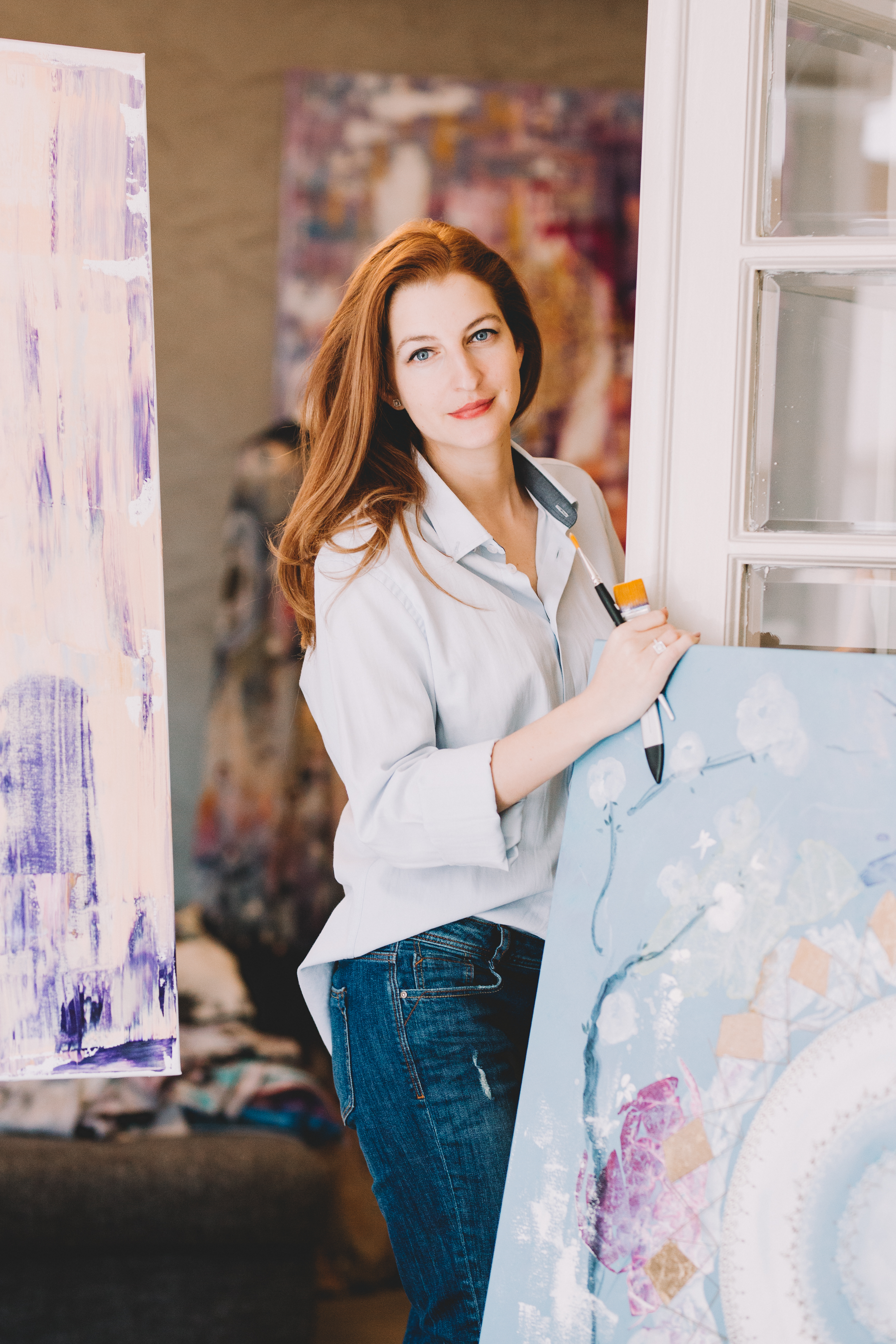 To continue to create for Marie Nouvelle, to continue to paint and develop creative collaborations with other branches of industry, not only the creative one.
13. Finally, could you give some advice for the young artists?
To follow their dream, but to be willing to work for it. To be extremely determined if they want to bring it into their reality. To not feel hopeless because of the obstacles inherent in any business or creative effort and to continue with small but safe steps.
---
Text images source: Maria Tureanu (Dermengiu) Personal Archive